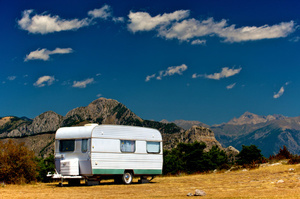 CARAVAN CLASS: The 8.5 metre 2014 Land Yacht travel trailer from Airstream is a very upmarket caravan. It uses luxury materials and Italian design in its 3 rooms. A bedroom, bathroom, living area and a hideaway galley kitchen provide enough room for 5 people to holiday or even live in. Features include hidden LED lighting, ducted air conditioning, a powered awning and a hidden storage area under the bed. Its look remain classic Airstream though. No need to rough it while caravanning.
AGING ANTS: How do you track individual ants in a colony of thousands? With barcodes, of course. A team of Swiss scientists glued barcodes to hundreds of ants and recorded all their movements for more than a month. Then they used video to analyse the position and orientation of every ant twice a second. They also tagged ants with different colours to denote their age, which allowed them to see how ants undertook different tasks as they grew older.
Pity the lab technician who had to glue on all the barcodes.
HOUSING SPHERES: If you're building habitations in extreme environments you can expect that they'll be pretty unusual. At The Ekinoid Project that means spheres raised up off the ground and self-sufficient so they don't need infrastructure such as pipelines, powerlines and sewage systems. Each sphere would be around 10 metres in diameter and could be joined to several other spheres to create a hub. At the moment the project is only in its early design stages, but it looks intriguing. And somewhat alien.
THE INNER ROBOT: In keyhole surgery it's very handy for surgeons to actually be able to see what they're doing. One technique may be to use tiny robots. But the problem lies in how the robots can crawl around on the slippery surfaces inside the body. Researchers from the University of Leeds used a treefrog as their model when they created the feet on their robot. The feet use capillary action to adhere to even wet surfaces, but on a scale of a thousandth of a millimetre to gain enough adhesion. Their prototype robot is still too large to be used in surgery, but they aim to sort that out soon. Caution: robots inside.
A SUNSHINE BUZZ: South Korean researchers have created a hybrid energy harvester using silicon nanopillar solar cells and piezoelectric generators. Since it captures solar and sound energy simultaneously, it can still generate power even if one source is absent, for example when the sun's not shining. The hybrid harvester could be particularly useful in moving vehicles. Keep that engine roar up.
Miraz Jordan, knowit.co.nz