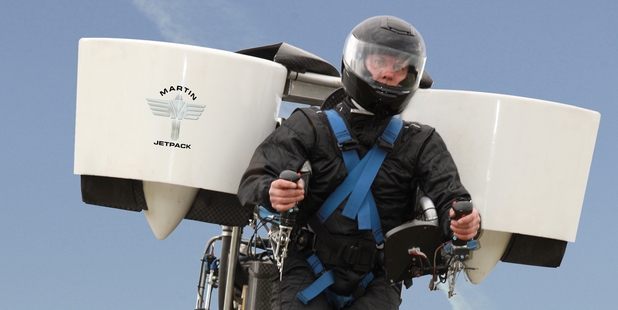 The Martin Aircraft Company, the Christchurch-based developer of the Martin Jetpack, has appointed a former Royal Air Force pilot as its new chief executive.
And the firm says the commercial release of its personal flying machine, which was named one of the top innovations of 2010 by Time magazine, is expected to take place during the latter part of this year.
Chairwoman Jenny Morel said the firm's ability to attract Peter Coker, an international aviation expert, to the chief executive role was due to the technological breakthroughs that had taken place with the jetpack.
"We have made a number of flight technology advancements in recent times, including the testing of new ducted fan technology, the development of a ballistic parachute, an impact-absorbing undercarriage and carbon fibre pilot module," Morel said. "We have dramatically increased the overall performance of the Martin Jetpack and now with Mr Coker's extensive networks and experience across a broad spectrum of industry sectors on board, the next step is to launch the jetpack to commercial markets around the world."
The company said it expected the commercial release of its First Responder Jet Pack - developed for police and other government uses - to take place in late 2013.
A slightly modified version, the Personal Martin Jetpack, would be released in 2015 and "transform the future of personal flight", the firm said.
The company's website says prospective commercial customers can now place orders for the jet pack.
Coker joined the Royal Air Force in 1976 and amassed 5500 flying hours on 20 different types of aircraft, the Martin Aircraft Company said.
After leaving the RAF he emigrated to New Zealand and formed his own aviation consultancy business.
In his most recent role, Coker was general manager of Lockheed Martin Global Inc (New Zealand).
Coker said he had been a long-time observer of the Martin Jetpack and his decision to join the company was spurred by the "spectacular leap forward" in the aircraft's technological capabilities.
"I'm really excited to be leading this company forward and I have no doubt that, in the near future, the Martin Jetpack will be in use throughout the world," Coker said.
A Martin Aircraft Company spokeswoman said the firm's former chief executive, Richard Lauder, left the company in July 2012 to take up a role with a tourism operator.