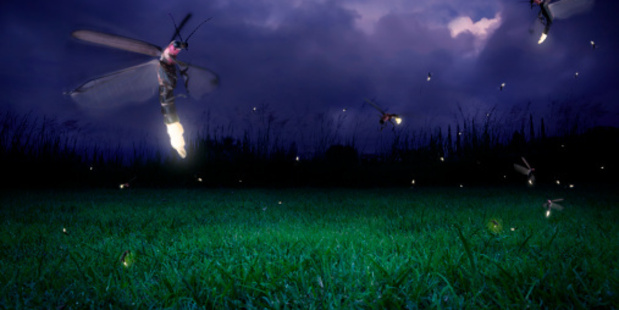 For years, humans have been studying animals and learning how they can improve their own lives.
Cross country skis - which gave people the ability to climb snow and ice, were originally seal skins strapped onto wooden skis. We no longer want to be hunting seals however, but technology allows us to replicate the design and incorporate it into use for our own benefit.
The list of nature-inspired ideas is long, from the design of a hypodermic needle replicated from a mosquitoes beak, to the nose of a bullet train which came from studying how a kingfisher dives at low pressure.
But what can nature do to help us with the sustainability challenges we face today?
Perhaps one of the more exciting innovations that has come to the market in recent times are LED (light emitting diode) bulbs. Changing from halogen bulbs to LEDs can save the average household around $480 per year and as demand increases the price of these inventions are dropping too.
But then scientists from Belgium, Canada and France revealed that after studying the abdomen of fireflies - perhaps one of natures' more spectacular phenomena - they have devised a way to make LEDs up to 55 percent more efficient on energy by replicating the design of their natural lanterns to apply a coating to the bulbs that throws out much more light.
Particularly exciting about this research is that - unlike many new inventions - current owners of LED will not necessarily need to replace their current setup and there will not be dramatic design changes necessary for this idea to have an impact, because the firefly-inspired coating can be applied to existing LED bulbs.
This will be a shame to the many over-eager energy savings buffs and government funders who have promoted changing to CFL (Compact Fluorescent Light) bulbs over the past few years, as LEDs are set to make these obsolete (and expensive to replace).
Another advantage of LEDs is that they don't contain the mercury that CFLs do, but as we change to more energy efficient bulbs, we must consider the materials that go into their manufacture. A life cycle analysis indicates that if we want to change to energy-efficient bulbs, we should be implementing a closed-loop system so that they can be disposed of without leaching copper, lead, mercury, zinc, arsenic and antimony into our landfills.
So to reap the benefits that technology and nature can bring to us, we must be prepared at the other end of the life-cycle, to receive such materials in a sustainable way and realise that it is not just energy savings that affect the environment.
So until we are ready, changing to these fantastic new inventions could cost the earth in the long run.
For those interested, check out this list of nature-inspired 'biomimicry' ideas.
Do you know of any similar innovations that are good for the environment? If so, please leave a comment or email me sam@sustainablecoastlines.org