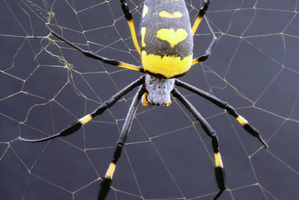 Here is a creature which, according to its size, can build from its own body a structure on the scale of a football pitch overnight, every night, and can catch the equivalent of an aeroplane in it. Professor Fritz Vollrath African golden orb web spiders are living the life of Riley in Professor Vollrath's Oxford University lab.
Up on the roof of Professor Fritz Vollrath's lab in the zoology department at Oxford University, there is a makeshift greenhouse in which he nurtures his favourite golden orb web spiders. The air is frenzied with the buzz of flies and thick with the smell of rotting fruit; look up and dozens of the mature African spiders, 7.6cm across, are sitting pretty on elaborate webs among the foliage, clearly living the arachnid life of Riley. Vollrath points out their offspring, thousands of tiny spiderlings, scurrying about on leaves beneath.
It seems a good place to ask him exactly how he first got interested in spiders and their webs. "The strange thing to me," he says, "was always the question of why scientists were not more interested in them. I mean, here is a creature which, according to its size, can build from its own body a structure on the scale of a football pitch overnight, every night, and can catch the equivalent of an aeroplane in it.
Why would you not want to study how it did that?"
Vollrath was a graduate student of neurophysiology when he started looking at webs and spider silks in earnest. His fascination with spider silk began when he was at university in Munich in 1972 and the lightweight, high-tensile Olympic park, designed by Frei Otto to mimic spider-web construction, created an imaginative framework for architecture. Vollrath, who speculated that spider silk might generate a similar revolutionary shift in the emergent field of biomaterials, was snared.
In the years since, he has probably spent more time studying how spiders spin their everyday miracles than any man alive. He has fed spiders drugs, tiny droplets of amphetamines and caffeine, and measured the dramatic disruptive effect it has on their web building and has tested ways of training spiders with a tuning fork.
Mostly, though, Vollrath has defined a pioneering area of study into the properties of spider silks that not only promises to revolutionise various polymer industries, but also could have huge potential medical benefits for humans in everything from knee replacements to nerve repair to heart transplants.
"No one was much interested in spiders when I started," he says. "Now an awful lot of people are."
Vollrath's silk group at Oxford has been going for about 15 years. Quite early on, it perfected a technique to reel silk directly from the spider. An orb spider is tethered and encouraged to produce silk that is wound on a reel by a small mechanism. The spider can sometimes keep this up for eight hours.
Vollrath's group can reel at different temperatures and under carefully controlled conditions. In this way, they can look at the molecular properties and x-ray diffraction patterns of the silk as it is produced. "What you find is that there is a huge correlation between the reeling conditions and the material properties," Vollrath says, "and that gets very interesting because that is what polymer people know about."
Spider silks are just about the toughest material on the planet. Stronger by mass than steel and more durable and flexible than Kevlar, they are also alive to ambient conditions and made to adapt and retain their tensility as humidity and temperature change. As it works, the spider adjusts the concentration of the structural components, by running fast or slow, for example, so it can produce, by turns, almost crystalline, very stable silk or quite diffuse, very flexible silk, for different parts of the web.
It was when Vollrath started examining the nanostructure of the material, however, that things got really interesting. "What we found by studying the silk as it is made," he says, "was that at a molecular level it has something in it, a little peptide, a recurrent little motif like a melody in a tune. It is this which helps to give the silk its entirely orderly structure. We don't know why that motif is in them, but what we do know is that same motif is also in the filaments that hold our own cells together, three amino acids which give them what you might call a particular signature tune. And when the cells of our body come into contact with this pattern in the spider silks, it appears that they can recognise it. They understand it and they will react by attaching to it and growing along it."
The holy grail is in using silks for nerve repair and renewal. "You can make very long fibres and potentially nerve cells will grow along these filaments," Vollrath says. "We can already bridge small gaps, but not long ones. The ultimate aim is to repair spinal cord in this way." That goal is some way off, though Vollrath is confident it is feasible. And there are still large challenges working with spider silk. One is the impossibility of farming it on any significant scale. Unlike silkworms, spiders are territorial and cannibalistic.
One solution, Vollrath suggests, may lie in the silk of a particular Indian worm, the silk of which is near-identical in many respects to spider silk and which carries the crucial tripartite signature of amino acids also found in human cells.
"We are learning more and more all the time," he says, about a substance that has developed over many millions of years. In that time, spiders have been confronted with versions of all the structural and molecular issues that trouble the best polymer scientists (and architects and neurobiologists) in the world, he suggests. "And what they have come up with are perfectly evolved solutions."
- Observer