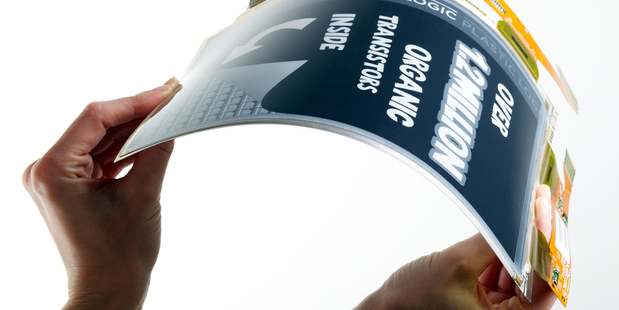 The face of computer technology is set to be changed by a new tablet computer as thin and flexible as a sheet of paper - but a working version in the shops is some years away.
Unveiled at the international convention CES 2013 this week, the PaperTab has left tech commentators across the world marvelling at the first laptop that can be rolled up and tucked in your pocket.
The prototype, developed by Queen's University in Canada, Plastic Logic and Intel, appears and feels like a piece of A4 paper.
It boasts a high-resolution, flexible 27cm plastic touchscreen, and is powered by an Intel processor.
It is a competing technology to graphene, and instead uses plastic that can transmit electric currents.
The PaperTab's design means it can easily be tossed around a desk like a magazine - and with a quick bend could also be read like one.
However, current prototypes cannot store much information and multiple PaperTabs must be used to work on a number of documents.
The director of Queen's University's Human Media Lab, Roel Vertegaal, said several PaperTabs were easier to work with than multiple documents.
"Within five to 10 years, most computers, from ultra-notebooks to tablets, will look and feel just like these sheets of printed colour paper."
Chris O'Donnell, of the Telecommunications Users Association of New Zealand, expected the technology would have a "huge impact" on areas such media and education, wiping out the distinction between page and screen.
Mr O'Donnell saw the PaperTab as a hurry-up to improve data storage and wireless networks.
"I'm not sure there is much New Zealand-specific application, but it will depend on the kind of application development environment that emerges.
"It's still got a long way to go before we've got a PaperTab in our hands."