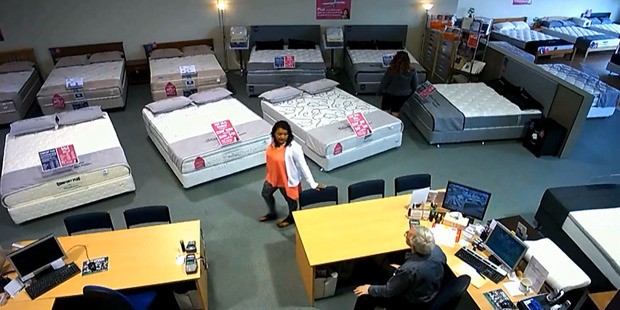 Two women have been caught on CCTV using a distraction technique to shoplift from a bed shop.
George Balani of Bed Sale in Botany has uploaded the footage to YouTube hoping the public can help to catch the blatant thieves.
In the five-minute clip, the two women are seen entering the shop on Ti Rakau Drive. One engages with a staffer and he follows her to look at beds.
Her barefooted friend lags behind and grabs several packets of sheets. At one point she drops them on the ground and spends several seconds picking them up, while also looking behind her to make sure she hasn't been caught.
She continues to steal two lamps before taking the goods outside.
The woman walks back inside seconds later and upon seeing the store worker, pretends to try out a bed.
When the worker disappears, she grabs two more lamps and takes them outside.
She returns for a third time and is briefly interrupted by the worker, but loads up on more sheets before leaving.
"The reason I've made this public is I think people are so amazed at the brazenness of the way these folk go about their business," Mr Balani told TV3.
"It's horrifying. Everybody just looks at me and goes, 'Really, do they do that?' Yeah, they do. If it isn't tied down, it's going to disappear."
He has asked for anyone who recognises the women to contact the Manukau police.
-Staff reporter