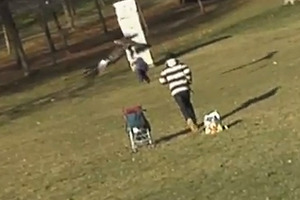 A viral video that shows a Golden Eagle snatching and dropping a toddler in a Montreal park has "hoaxed the internet".
The clip, which shows the eagle swooping in on the child, picking him up, carrying him in the air and then dropping him on the grass, was widely accepted as genuine when it circulated last night.
Stills of the clip ran in newspapers and the video played on talk shows and websites around the globe.
The hoax has since been debunked, with its creators claiming responsibility.
Montreal animation and design school students Normand Archambault, Loïc Mireault and Félix Marquis-Poulin made the video as part of a production simulation workshop class of the Bachelor's degree in 3D Animation and Digital Design.
The course is known for its "annual hoax the internet exam", another being a video of a penguin having escaped the Montreal Biodôme.
But none has garnered such wide attention as the eagle snatch, which got more than 1,200,000 views overnight.
Even before the students came forward, experts had already made some pretty convincing points.
Bird expert Kenn Kaufman was convinced the viral video was a fake.
"Golden Eagle is a scarce visitor in the Montreal area, but the bird in the video is not a Golden Eagle, nor anything else that occurs in the wild in North America. This was clearly a setup: using a falconer's bird, and probably a fake toddler for the distant scene. With all the ignorance about nature that's out there already, the last thing we need is this kind of stupid garbage," he wrote on the Black Swamp Bird Observatory Facebook page.
Enhanced versions of the video also revealed several flaws in the computer-generated imagery. The eagle's wing disappears briefly while in flight and inconsistencies with the bird's shadow also pointed to it being fake.
- nzherald.co.nz