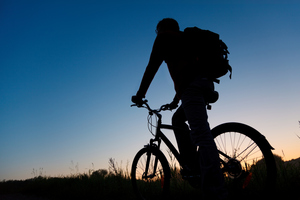 FLASH ON A BIKE: Cyclists like to be seen night, but the small tail light on a bike doesn't always show up very well. Vizibelt combines two LEDs with a thin tube of flexible plastic to create a belt of light that cyclists can wear. Vizibelt has three light modes; fast flash, normal flash and constant light. This would be great for night-time dog collars. Vizibelt has further details. Check out the video.
SAUCER TALES: Back in 1956 the US Air Force had plans for their very own flying saucers. Project 1794 was to have a range of around 1850km at speeds of up to 4,800 Kph. The idea was to rotate an outer disk at very high speed for propulsion as that would affect the flow of air. The declassified documents that explain Project 1794 don't make it clear whether a craft was ever built and flown though. Photos or it didn't happen.
ExtremeTech explains.
AIR BATTERY: If the electricity from wind turbines isn't used immediately it may go to waste. If only there were a way to store it. Highview Power Storage in the UK is working with a technique that uses frozen air. At night the electricity generated by wind farms chills air to -190 C which creates a liquid that's stored in a giant vat. During the day the temperature rises, warms the air, and the vapour drives a turbine, producing electricity. What's more, waste heat from other sources can be used to help warm the air, making the whole process more efficient. It's always a problem to have the things that you need in the right place at the right time. Discovery News details. Video here.
BUGS IN SPACE: As human attention turns to living on other planets the problems of food, fuel and shelter come into focus. Transporting finished goods will be extremely expensive, so NASA are considering engineered microbes for the job. NASA's Synthetic Biology Initiative is exploring how microbes could exploit the resources available on a planet such as Mars to support human occupation. In theory microbial colonies could make oil, plastics or fuel for astronauts. I wonder if an inhospitable environment is a sufficient predator. New Scientist has further info.
THIS LITTLE LIGHT: That little laser pointer you use during presentations wouldn't hold a candle to the new Boeing laser. After all, the High Energy Laser Mobile Demonstrator is designed to eventually knock missiles and UAVs out of the sky. It's being installed on an 8-wheeled, 500 horsepower Oshkosh Heavy Expanded Mobility Tactical Truck — a giant of a thing. The next step is to install a 10 kilowatt solid-state laser. But even a 10 Kw laser is trivial compared to the 100 Kw beam the Pentagon aims to achieve. Just think of the fuel such weapons need. CNET elaborates.
Miraz Jordan, knowit.co.nz