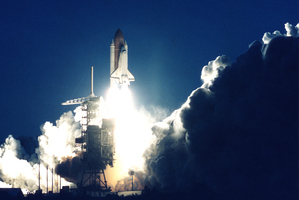 BLOOD IN SPACE: Surgery here on Earth is a messy enough business, but at least the blood can be contained and more is available from blood banks. In the zero gravity of space though blood and bodily fluids would just float around the spacecraft. A team of US researchers is working on how to solve that problem. Their answer is the Aqueous Immersion Surgical System — a transparent box full of sterile saline solution that creates a watertight seal around a wound. Medics access the submerged wound through airtight holes to use handheld and orthoscopic instruments. And given that there are no ready sources of spare blood in space, the device could also siphon up and recycle the patient's blood for later use. The device will soon be tested in zero-G on an artificial coronary system filled with synthetic blood. Meanwhile the astronauts had better just be very careful. New Scientist has further info.
SECURITY DETAIL: Security cameras tend to be fairly low resolution, but the new JPEG2000 HD Pro security cameras from Avigilon produce 29 megapixel images at 6576 x 4384 pixels. The company claim the camera can replace 95 traditional VGA-resolution security cameras, shooting high-quality images even in poorly lit conditions. The high resolution means an operator can zoom in to see small details such as number plates or what a person is carrying. The camera uses Canon EF mount SLR lenses and an operator can manually control aperture, white balance, and shutter speed. Maybe TV crime shows will soon be closer to reality when they zoom in on security cam footage. PetaPixel explains. Check out the video.
THAR SHE BLOWS: Engineers will soon start injecting water into a series of connected cracks 3 kilometres deep at Oregon's Newberry volcano. They aim to produce steam to drive turbines and generate electricity. Independent studies showed the project doesn't risk triggering earthquakes near the volcano or contaminating groundwater. What could possibly go wrong? New Scientist elaborates.
TAKE A HIKE: Keeping mobile devices charged is a problem in a busy day as you dash from meeting to meeting. The nPower PEG aims to solve that problem by harvesting the energy of your movements. The Personal Energy Generator belongs in your briefcase or handbag, harvests kinetic energy created by your movements and stores it in a 2000 mA lithium polymer battery. You can also charge the PEG's battery from a wall point or laptop. 25 minutes of walking generates 1 minute of talk time on an iPhone. That's a good case for walking the talk. nPower PEG details.
SIFTING THE LIGHT: One way to make a telescope is to arrange mirrors to bounce light around to a focal point. But the US Air Force is developing one that instead uses a thin film of plastic with holes in it. The photon sieve works by bending light through billions of tiny holes to create a black and white image. One advantage is that the new lens can be folded to fit into a tiny space, making it easier to launch into orbit. Tests in zero gravity showed the telescope could be deployed from a satellite the size of a carton of milk. They hope to launch a photo sieve telescope into orbit in 2015. BBC has more.
Miraz Jordan, knowit.co.nz