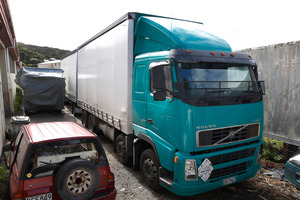 A man who wedged his double-trailer truck on a winding hill road north of Wellington after following GPS instructions was a disqualified driver, police say.
The truck became jammed under a low hanging pine tree branch on a tight bend just south of the summit of the Paekakariki Hill Rd this morning.
Police say a global tracking system led the driver over the winding road, which was unsuitable for a vehicle of that size, rather than along State Highway One.
The truck was impounded in a Porirua tow yard when police discovered the driver was disqualified, Constable Scott Walker of Kapiti police said.
Porirua police said they believed the man had travelled from Auckland before he got into trouble on the steep road.
He was going to be arrested and charged with driving while disqualified.