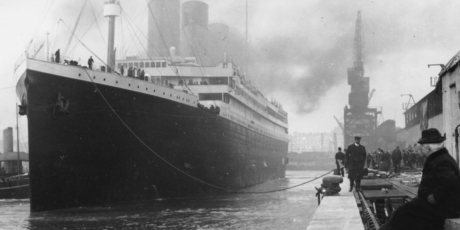 MOON SHIP: An Australian billionaire is creating an almost exact replica of the Titanic. Building work will soon begin in China. The replica is slightly modified to increase safety, will run on diesel not coal and will have more lifeboats. The billionaire, Clive Palmer, sees the ship as a tribute to the original designers and builders, as a way to make people happy and 'to go to the moon'. Surely building a spacecraft and going to the Moon would be a better way to go to the moon. BBC details.
LEAVE A NOTE: Researchers in Saudi Arabia are working on ways to include RFID devices in banknotes. The main aim is to prevent counterfeiting. Since banknotes are designed to resist stresses such as bending, folding and even going through a washing machine, the RFID chips use organic components so they can withstand the same treatment. They're using nonvolatile ferroelectric memory to reduce power draw. One side effect, of course, is that once numbers of chipped notes are in circulation it will be possible to build up significant tracking data. Such data could reveal who is buying forbidden goods or receiving undeclared income. And those are things governments would probably like to do and citizens would prefer they don't.
IEEE Spectrum has more.
NATURAL TRANSISTORS: Researchers at MIT are using a 2D version of molybdenum disulfide to create electronic components. This opens up possibilities for new products, such as whole walls that glow or clothing with embedded electronics. The material comes naturally with a bandgap — the key property that makes it possible to create transistors. The material is so thin it's completely transparent, and can be deposited on almost any other material. Or maybe transform whole walls into video displays? Kurzweil AI explains.
BATTERY BELT: LG Chem's new lithium-ion batteries can twist and flex and even be tied in knots. The batteries use a spring-like, spiral electrode design on thin strands of wire that can be woven into a cable. The batteries are relatively low powered but the developers are working on increasing the power. Such a design could lead to such batteries forming part of a headphones cable, or being woven into textiles or accessories such as belts and wristbands. That would definitely be a handy way to carry extra batteries. Technology Review elaborates.
FELT HEAT: Scientists at Wake Forest University in the US have created a felt-like material that uses body heat to generate electricity. The material uses carbon nanotubes to do its work. It could be incorporated into clothing and is fairly easy to create. So how about the clothes generate the power and the accessories store it? CNN has further info.
Miraz Jordan, knowit.co.nz
By Miraz Jordan