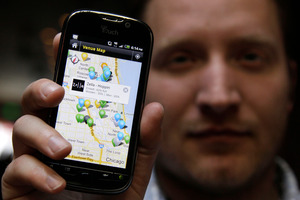 Photo / AP
Like many of you, I regularly download apps that look interesting. Three months later, looking through my phone, I sometimes wonder what they actually do, and end up either deleting them or relegating them to a distant screen and/or folder.
There are apps I still regularly use, though. Of the Apple set, I use Calendar since it syncs with iCal on my Mac. That's super handy. Messages for texting, sure; Maps hardly ever (as I'll explain later). Camera, yep, Clock definitely, as an alarm, timer (great for timing speeds of things I'm testing) and often for checking what time it is in some exotic locale (or Rotterdam) I have to call or Skype. And I check email in my @me account on my phone when I'm out.
Remote is good - I can pipe my MacBook's music through the house stereo system through an AirPort Express. Remote lets me change volume, track, playlist ... Voice Memo is awesome for recording interviews, including from Skype (nb, you are required to ask permission to record people), and it's good for taking down an idea or a tune. I love that Voice Memo syncs its recordings to iTunes on my desktop, giving me a working, searchable archive on my Mac.
iTunes I use for sure - mostly for podcasts. A mate Phil Gregory gave me the great tip of listening to Audio Books on long flights (you can buy them in the iTunes Store). You can shut your eyes and drift off, but while you're conscious, at least you brain has something to engage with. It's so much better than just sitting there listening to aircraft noise. There is a new Podcasts app from Apple, but I must admit I haven't tried it, as I have a lot of feeds and I can't be bothered entering them all into a new App to resubscribe to them all.
And if you don't use podcasts, you're missing out! They are free, entertaining, informative and sometimes pure genius.
Of the Apps I have loaded myself, TomTom gets used pretty much daily. It's the most expensive app I have by a long shot, but those clients wondering how I always turn up exactly on time can thank TomTom, with it's uncannily accurate predictions of arrival times. It's NZ$99.49 covering the whole of New Zealand.
Of better use and value, if you are travelling in Europe, is the NZ$114.99 TomTom Western Europe version, which I happily shelled out for. This is wonderful for several reasons, although I've only been to Europe once in the last 25 years, so it hardly qualifies as an app I use constantly. Firstly, the single app covers Ireland, Wales, England, Scotland, Holland, Belgium, France, Germany, Denmark, Italy, Lithuania, Spain, Switzerland and other places whose acronyms I can't decipher (sorry IC, LU, MT, PT, VA ...). Secondly, having an app that talks to you while you're driving by yourself is brilliant - if you factor in multiple stops to ask directions or look at a map, it saves a lot of precious travel time. Thirdly, in big confusing cities you can specify a Walking Route which can also work for biking. All round, I love this app, although there are other navigators - even the built-in Maps app can handle effective directions, and that's what I use on any short business trips in Australia.
NB, you can get TomTom for iPad now too, for better (bigger) map views, but my iPhone fits on most dashboards by the speedo making it as easy to see as the car instruments while I'm driving.
I do a lot of my podcast-listening while I cycle or walk - so I use the app Awareness, too. Awareness measures ambient noise (or set the level yourself) and lets through any sounds above a threshold. A car horn or a shout comes through the mic into your earbuds or headphones. This is also handy for flights, since it doesn't let the usual aeroplane noise through but you can hear announcements.
B.icycle I use every day, too - it clocks the trip on my single-speed bike. Today, for example, I did 12.3kms at an average speed of 15.9kph, burnt 542 calories and climbed 153 metres. I try and do 50kms per week - otherwise I'd be a ballon, I'm sure, since us writers sure do sit around a lot. Out of interest, I notice if I listen to music instead of voice, I cycle a full kilometre-an-hour faster.
Flashlight is an app I don't need often, but it's so handy when I do need it, it's on my front screen. It just fires up the iPhone 4's light so I can see. Older iPhones can get versions that light up the screen instead - surprisingly effective.
Celsius is great, too - apart from displaying the current temperature in the icon, when you boot it, the weather information is very accurate for Auckland. I like to check the conditions here, but also in Wellington where a daughter lives, and for Rotterdam where my partner currently is.
Other apps are fascinating enough to keep, but I don't use them often. When I did a history paper at University the app SPQR was really handy for translating Latin, which the lecturers seemed to assume we knew.
Heart Rate measures your pulse through your finger and it's surprisingly accurate - I know, I checked it with my doctor, who promptly downloaded it to her own iPhone. Not exactly used a lot, but it's a keeper. QR Code reads those weird square visual codes you see more and more, and I have various camera and video apps I use sometimes. Augmented reality apps look great but they're not exactly useful every day, and I occasionally use Twitter or Facebook on my iPhone, but the other 60 or so apps ... well, I guess it's time to make some space.
I'm interested to hear of apps you like - the once that have lasted the distance for you and that you use daily.
Android ones too, please.