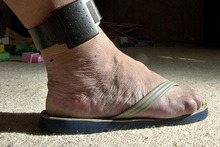 Corrections Minister Anne Tolley has spoken glowingly of the benefit of GPS-equipped ankle bracelets that will be fitted to high-risk criminals released into the community. The ability to monitor these offenders' movements around the clock would provide "peace of mind", she said.
This was not quite the language that would have been used by overseas authorities who have used the devices. They would have been rather more guarded in their comments - as Ms Tolley should have been.
The bracelets use satellite transmitting signals to enable tracking of offenders. Signals are sent to computers, which display the offender's whereabouts on an online map. Corrections staff will be alerted if they stray from their routine of working, shopping and suchlike into exclusion zones, such as parks or schools, or if they break curfew.
This is a substantial advance on existing electronic monitoring, which works only if an offender is in a set location, such as at home. Its introduction should, notably, enable Corrections to keep closer tabs on high-profile serial rapist Stewart Murray Wilson. It has asked the Parole Board to order him to wear a bracelet after his release from jail in September.
Clearly, the locators will be an important new tool. Sexual offending occurs under a shroud of secrecy. This device effectively removes that cover. But experience in North America has shown it can also engender an unwarranted sense of security among Corrections staff. The bracelet indicates only the location of an offender; it does not tell that a crime is being committed.
Sex crimes can occur in minutes. Preventing them, therefore, relies on rapid intervention by authorities when an offender enters areas where, for example, children congregate. That is not always a realistic prospect. The bracelet makes it obvious who is responsible for the crime. But that is little, if any, solace to the victims.
Certainty of identification means the bracelets can be a deterrent to crime. For that reason, they are sometimes welcomed by sexual offenders wishing to rehabilitate.
In such cases, the locators offer far more than simply locking up people indefinitely. But, again, not too much reliance should be placed on this. A propensity for sex crimes is often well ingrained, and some offenders' reaction to a bracelet will focus on ways of negating its effect.
It is, therefore, important that Corrections staff do not place too much importance on the device. It should be one of several tools used to try to ensure criminals do not reoffend. There should, for example, be no relaxing of behaviour modification programmes, which seek to allow offenders to amend their thinking and overcome their impulses. Nor should there be a lessening of co-operation with the police or contact with the offenders.
Ms Tolley envisages that 11 child sex offenders now on extended supervision or on parole with special conditions imposed by the Parole Board or judges will be the first to be tracked from August. By the end of the year, the number wearing bracelets will rise to 90, including criminals who have been jailed for violent offences. Next year, up to 200 locators will be in use.
This will come at a cost that will rise from $750,000 in the first year. But much of that should be recouped, as it costs about $100,000 a year to keep one offender in jail.
The minister is right to suggest this closer monitoring will mean a reduced risk to the public. But that should not be overstated. The lesson from overseas is that bracelets are no panacea, and should be used in conjunction with more mundane ways of keeping tabs on high-risk offenders.