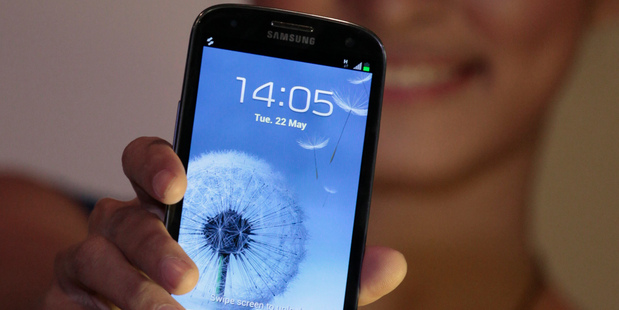 Its boggling to think that just a few decades ago, the sort of raw computing power I'm now holding in the palm of my hand took up several warehouse sized buildings and needed its own power station. Meanwhile back to the future, Samsung's latest smartphone computing powerhouse is about as state of the art as it is possible to get in the present day.
Packing the latest version of Android (Ice Cream Sandwich), a quad core CPU and a massive 4.8" Super AMOLED HD screen, the SIII has enough features to make even the most hardened Apple disciple take another look. Samsung is claiming nearly 10 million pre-orders, and if the SII is anything to go by, sales look set to go berserk. So how does the Samsung's Galaxy SIII stack up?
Design
Finished in polycarbonate, there's a choice of White or Blue, the review unit I was sent was finished in white which lent it a quiet air of sophistication. Like other recently launched smartphones, the SIII isn't petite.
Coming in at a sizeable 136.6 x 70.6 x 8.6mm, much of its size appears to be due to its 4.8" HD screen.
The SIII has picked up some criticism for feeling too light and "plasticy". I think that compared to other similar phones the definitely SIII feels light (even though it actually weighs in at 133g) in the hand. Whilst an optimist would say that this means less torn pocket fabric, pessimists could argue the SIII feels a little cheap. Funnily enough this was the exact criticism levelled at the Galaxy S2, which of course sold in astronomically large numbers. On the basis of that I'd be willing to wager the market is largely composed of opportunists who'll rush out and buy the SIII whilst the pessimists and optimists are fighting it out.
In the insanely brief time I was given to review the SIII, I quickly came to the conclusion that it really isn't a cheap-feeling phone. Samsung appear to have really gone to some effort in this department. From its Gorilla Glass front, alloy sides and polycarbonate body, the SIII actually felt far less flimsy than the SII.
Looks-wise the SIII seems to share a lot of the same design cues as the original Galaxy S thanks to its soft rounded edges and subtly curved design, especially when compared to the more squarish look of the SII. One particular subtle touch I liked was the bezel which appears to have been shrunken to make the already sizeable screen seem just that much bigger.
In use, the various controls on the SIII were well thought out and seemed to be intuitively where my fingers thought they should be. Like the original Galaxy S, the SIII sports a physical home button, and uses back and Menu soft keys. The volume up and down button is located on the side of the phone.
Another plus working in the SIII's favour is its removable battery cover. Unlike that other fruity smartphone, SIII owners can swap the battery in and out and even more crucially, avoid sending it back along with a sizeable wad of cash when its battery finally wears out. A microSD slot next to the microSIM port was also a bonus In theory this should allow media junkies to hold several boatloads of media on the SIII as its 64Gb internal memory once coupled with a 64Gb microSD card provides a stonkingly massive 128Gb of storage.
After an all too brief 5 days of use, I can say that in practice, the Samsung Galaxy S3's smart design makes it a very usable phone, although it's definitely not small.
In Use
Perhaps the most immediately noticeable feature of the SIII is its screen (which is a real stunner). Compared to the screen on my original Galaxy S, the SIII showcases just how far screen technology has progressed over such a short time. Four years ago, 320 x 480 resolution smartphone screens were the norm and people were shelling out big bucks for a 720p capable flat screen TV. HD capable peeper pleasing video can fit in the palm of your hand with the SIII. What really helps the SIII's screen is the 309ppi pixel density, which is right up there with the iPhone 4S. While the IPhone's Retina Display is definitely a thing of beauty, its petite 3.5" screen is in dire need of some major upsizing if it is to foot it with the current crop of smartphones.
So if Size definitely matters, Samsung must have been leveraging their video processing learning's from their new OLED TVs to really make the SIII's screen shine. Where OLED display technologies have historically tended to deliver almost garish and harsh colours, the SIII's Super AMOLED screen appears to have been calibrated to deliver far more images and video.
This said, I did find that the auto-brightness setting dimmed the screen a little too much (even though it was probably extending battery life). Even though there is a separate browser brightness setting, I'm quietly hoping for per application auto-brightness levels in a future upgrade.
Bells and whistles
The other feature Samsung have also bravely squeezed into the SIII is S-voice, which is Siri-like but with a distinct Samsung flavour. It can do pretty much everything Siri can do (it even appears to use Wolfram Alpha to get information for responses to any questions put to it). Unfortunately it didn't say that the Nokia Lumia 900 is the best phone ever, and it also doesn't know that 42 is the meaning of life, the universe and everything. Oh well.
What it did do surprisingly well however was manage tasks, such as making appointments and setting an alarm. Activating driving mode, also made it almost completely hands free, which in use was a real bonus. As good as S-voice was, its speech recognition did at times struggle with my kiwi accent.
That said I was able to wake the SIII with a specific voice command and was able to train the SIII to learn a specific wake-up voice command. Either way S-voice was a brave move from Samsung given Apples twitchy trigger finger hovering over the big red button marked "litigation"
The other big feature touted on the SIII is its ability to track your eyes to ensure that its display stays on when you're looking at it. The theory goes that this should keep the screen timeouts and frustration to a sensible minimum. An eye icon is displayed in the notification bar when Smart Stay is keeping an eye on your eyes.
In use it worked most of the time but every once and a while the display would still time-out. Still it is a version 1.0 feature that could become hugely useful if refined and improved with subsequent updates, here's hoping.
All of these gee-wiz features are nice but at the end of the day however, it's really about getting online and making phone calls. Given the SIII is packing a quad core CPU, HD screen and muscular graphics as well as an HSPA+ capable cellular radio, you'd expect it to run like a cut cat when browsing, emailing or texting, and believe me it does.
Thanks to its hi-res screen, zoomed out web pages were still legible and even better still, web pages rendered pretty quickly over 3G (I tried it on Skinny, Vodafone and 2Degrees in multiple locations at several different times of the day). Over my home Wi-Fi connection websites literally appeared on-screen almost instantly. Flash video played fine (at least that was after I'd enabled Flash player in the settings).
The not so secret sauce to the online awesomeness of the SIII is its Chrome browser which is a component of Android Ice Cream Sandwich. This also handily meant the browser bookmarks on my PC were synchronised once I'd signed into Google. About the only real annoyance I experienced came from my contacts which bizarrely comprised of about 3,500 of people I'd added to Google+ circles. Finding numbers for people I actually wanted to call quickly became painful. Thanks a bunch Google.
Another consideration when looking at a smartphone is its camera and \the SIII wasn't lacking. This said, it came with an 8MP image sensor instead of the increasingly common (yet bulkier) 12mp image sensor. At the end of the day however the SIII's camera was well implemented with a range of shooting modes and most importantly, it took also some surprisingly good photos.
This was helped greatly by a near zero second shutter lag. Instead of waiting for the camera to capture the image (by which time things have usually moved on), I was able to shoot a stream of 10 photos per second using burst mode and then use best shot mode to choose the best picture.
Having played extensively with the SIII's rear camera, I also found myself moderately impressed with its front facing camera, which sported a 1.9MP sensor that was capable of recording 720p video. If you're thinking I liked the SIII's camera functionality, you'd be right. It was not only a solid performer, but there also plenty of really nifty shooting modes such as HDR mode, Beauty mode, Panorama and Smile shot.
The SIII's large hi-res screen, fast CPU and other goodies all need power, and Samsung have supplied it in the form of 2100mAh battery. Energy thirsty tech should make for a short battery life but thankfully I was able to get 1-2 days use depending on how much surfing/phoning I did. Firing up S-Voice however was a real battery killer as it listens to what you say the entire time it's enabled and took battery life down to just under a day (the review SIII was gasping for a charge by 3pm).
ON the connectivity front, about the only thing missing is the kitchen sink. Everything you'd care to name acronym-wise from NFC to GPS, has been crammed into SIII's petite 8.6mm chassis.
The SIII's NFC (near field contactless) communications is based on Android's Beam system and allows other Beam capable handset owners to share map directions, web links and YouTube videos simply by putting both phones near each other Files are also able to be transferred using Wi-Fi Direct, file transfers between SIII's can happen at breakneck speeds. Photos take seconds, HD videos a couple of minutes.
The SIII will also play nice with HDMI equipped TVs using what Samsung call an MHL adaptor lead which connects to SIII via its microUSB. Doing this allows you to mirror your device onto a larger screen which was pretty good for sharing videos, photos and even the odd angry bird session.
Equally handy is what Samsung have branded USB To Go (which requires a micro to standard USB adaptor) which lets you connect a USB hard drive to the phone for easy file transfers.
DLNA has also been bundled which makes for near seamless connectivity to other DLNA hardware such as a Samsung TV, Blu-Ray player or even the humble PlayStation 3 for streaming video and audio. DLNA is perhaps one of the most useful yet underrated features of the SIII as watching videos wirelessly on a weekend morning felt incredibly decadent.
Verdict
There's a lot to like with the SIII, not only does its spec sheet read like something we'd have considered a high spec PC only a few years ago, but it is also literally bulging at the seams with acres of features and functionality. Deciding between Samsung's SIII and HTCs One X is definitely going to be a toughie.
Tech Specs
RRP: Varies depending on carrier and calling plan
Screen: 4.8" Super Amole HD display
Storage: 16/32/64GB depending on model, plus expandable MicroSD card
Cloud storage: 50GB Drop box for two years
Colours: Pebble blue or marble white
Battery: 2,100mAh (wireless charging optional extra)
Camera: 8MP rear; 1.9 MP front
RAM: 1GB
Dimensions: 136.6 x 70.6 x 8.55 mm
Weight: 133g
OS: Android 4.0.4
CPU: Exynos 4 Quad (1.4GHz)