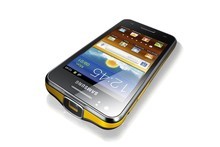 PROJECTORPHONE: Samsung's Galaxy Beam smartphone is pretty much like other smartphones, except for one feature: its built-in ultra-bright, 15-lumen projector. Point it at a wall to show a 127 cm image. Now, if it could take a live image from the camera and project it that could be pretty useful, especially with a close-up or macro lens. More at Mashable and video here.
LOOK OUT TO PORT: East Africa hasn't had high-speed Internet for long — only a couple of years — although three undersea cables bring those connections. But when a ship dropped anchor in a restricted area of Mombasa Harbour recently it dropped it right onto fibre-optic cable, causing damage and disruption. Internet connections are expected to slow down by 20% in Kenya, Rwanda, Burundi, Tanzania, Ethiopia and South Sudan's capital, Juba for a couple of weeks until the cable can be repaired. It might be worth asking why such an important cable runs under such a busy port. More at the BBC.
PLASTIC SAUROPOD: At Drexel University in the USA researchers are creating 3D scans of giant dinosaur bones and then using 3D printers to create and test scale models of fossil bones.
This means they can easily and quickly create fullsize models for display and scaled models for education or for testing hypotheses. If you're dealing with the skeleton of an 80 ton sauropod a scale model is the only way to actually be able to work with the bones to reproduce motion. 80 tons is an enormous animal, that's around 10 times as much as an elephant. More information here.
BLOOD SUBMARINE: Engineers at Stanford have demoed a tiny wirelessly powered device only 2mm square that can be guided through a fluid such as blood. The device can be implanted or injected into the body and powered wirelessly using electromagnetic radio waves. Some devices, such as cochlear implants, could be stationary, but others could be guided through the bloodstream to deliver drugs or carry out tasks such as zapping blood clots. The device has an antenna of coiled wire magnetically coupled to a transmitter outside the body. Any change in current flow in the transmitter induces a voltage in the coiled wire and propels the device. Someone will need to come up with the realistic video games so medics can practice their technique.Stanford University has more, and there's video here.
LIFT BENEATH THE WINGS: The Swiss village of Tenna had a 500 metre long ski lift that carries 800 skiers an hour. But the effects of age meant the lift needed restoring. The villagers figured, since solar panels on the roofs of their stables worked well, why not fit the ski lift with solar panels too? They installed a kind of suspension bridge above the lift. 82 panels are housed on that bridge, rather like wings, and can rotate to catch the sun and tip off snow. On sunny days, the lift produces twice as much power as it consumes. It's expected to produce 90,000 kilowatt hours annually. In the off-season the lift functions as a mini solar power plant. Sun, snow — a
great combination. Discovery News has more here.
- Miraz Jordan knowit.co.nz