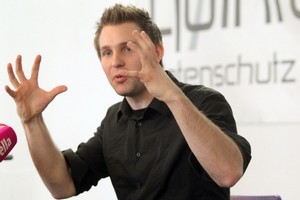 An Austrian student waging a David-versus-Goliath battle with Facebook over its privacy policy said he still had "serious doubts" about its usage of personal data after talks with the firm's executives.
"We still have serious doubts about a lot of Facebook's data usage and will go on pushing the company to fully implement European data protection law," Max Schrems' Europe-versus-Facebook group said after the talks in Vienna.
"In our talks Facebook was saying that they are still on the journey to fully comply with European laws. Many systems that are in operation are still not working the way they should," a statement said.
"For example some of the deletion routines are currently not working correctly. Facebook is like a large tanker that moves the right direction, but it still not fully there, the representatives said."
In December regulators in Ireland, where Facebook has its headquarters for regions outside North America, told the firm to improve its privacy policies following more than 20 separate complaints by Schrems' Europe-versus-Facebook group and others.
Schrems said that after reviewing changes by Facebook in response to the recommendations, his group would narrow its complaints down to issues still remaining and ask for a formal ruling from the Irish Data Commissioner.
The 24-year-old said however that yesterday's six-hour talks, which included Richard Allan, Facebook's director of policy for Europe, Middle East and Asia, were "constructive" and that he felt he was "taken very seriously."
"We were able to obtain information, more than we expected, and we think that things are going in the right direction," the law student told a news conference in the Austrian capital.
He added however that it was "absurd that a group of students are negotiating on behalf of all Facebook users. It should be the authorities' job."
A Facebook spokesman said in an emailed statement that the meeting was "very constructive."
"Facebook is committed to resolving the complaints it has received through the Office of the Irish Data Protection (DPC) Commissioner and this meeting is a helpful part of that process," the spokesman said.
"We will continue to work with the complainants and our regulator in Ireland in this constructive spirit and we have already started on the extensive programme of privacy improvements set out in December's audit report by the DPC."
Facebook has been under rising regulatory scrutiny as the Palo Alto, California-based firm has tried to turn the massively popular site into a profitable business ahead of a possible stock market listing.
In November it agreed with the US Federal Trade Commission to tighten its privacy policies after the FTC found it had deceived users by for example making personal data that it had vowed to keep private available to advertisers.
- AFP