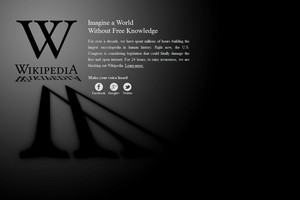 New Zealand website owners can now join a Kiwi version of today's "blackout" protest against America's internet piracy laws, thanks to a Wellington web developer.
Website and app designer Jack Mahoney has adapted the protest against the Stop Online Piracy Act bill for a New Zealand audience, hoping to raise awareness about how the American law could affect Kiwi businesses.
"We use a lot of websites which are based in America day to day," he says.
"I think people don't realise that if this bill goes ahead, it could really change the way we access them, and also the way we share content on the Internet."
SOPA and the accompanying bill PROTECT IP, currently being debated by the US Congress, would give private corporations the ability to shut down unauthorised websites where people download movies, music and other online content.
Opponents say these laws could be used to attack small online businesses and clamp down on free speech.
Websites around the world, including Google and Wikipedia, have gone dark for 24 hours or posted anti-SOPA messages to protest the legislation.
But the messages on sopablackout.org, the main online hub for the protest, are aimed at specifically American audience.
"It was about contacting your congressman and stuff like that, which didn't really apply to New Zealanders," Mr Mahoney said.
With Mr Mahoney's adapted code, a blacked-out website in New Zealand shows a dark screen with the message, "Like thousands of other websites, we're going black for 24 hours, to protest the Stop Online Privacy Act bill, which is before the United States Congress."
It references Internet NZ chief executive Vikram Kumar, who has described the bill as a threat to New Zealand's national interest, and urges people to contact the US Ambassador to New Zealand to express their concerns.
Website owners activate the blackout by copying a line of code from Mr Mahoney's website at www.jackmahoney.co.nz/sopa and pasting it into the code of their own sites.
Visitors can proceed to the website's real content by clicking on the blackout page.
Mr Mahoney didn't know how many websites have used his code so far, but said he received positive feedback about the project.
"I've had quite a bit of contact through my contact form, people saying 'Thanks for this' and giving me little pointers to bugs in the code."
Thanks to the time difference between New Zealand and America, the international blackout began at 2 am and ended at 2 pm today, causing some uncertainty about when Kiwis should participate.
"It's hard to co-ordinate with America," said Mr Mahoney. "But pretty much anyone who wants to black out their site for 24 hours at any point today will be part of the protest."