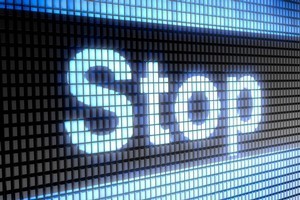 As the British Wikipedia site goes dark for 24 hours to protest American internet piracy laws, web experts are warning the laws could be used to attack New Zealand websites.
Wikipedia plans to go dark on Wednesday, US time, and Google and other websites are also planning protests to voice their concern over legislation in the US Congress intended to crack down on online piracy.
Internet NZ chief executive Vikram Kumar has spoken out against the Stop Online Piracy Act (SOPA) and the PROTECT IP Act currently being considered by the US Congress.
He says the anti-SOPA web protest, which includes other major sites like Google and WordPress, is a good way to "get the message out to the average person" who may not understand the international reach of the law.
"Yes, this is a US domestic law, but we need to be concerned about it because our national interests are at stake," he told the Herald Online.
"So far most of the conversations we've seen have been very US-centric."
SOPA and PROTECT IP would give private corporations the ability to shut down unauthorised websites where people download movies, television shows and music. Most of these sites are based outside the US.
SOPA has been shelved by Congress as the debate continues in the US, but Mr Kumar expects a "SOPA-like law" to be passed eventually."
Under these laws, Hollywood and the music industry could sue US search engines to remove links to the sites, or cut off their funds by forcing US advertisers and payment services to cancel their accounts.
Mr Kumar said the law could be used by large corporations to attack up-and-coming New Zealand websites before they become competitive.
He cited a similar case where US company Bose used IP laws to bully a New Zealand company, Phitek, over noise-cancelling headphone technology.
"That's quite common in the tech industry - the use of threat of sanctions or court cases or very expensive and time-consuming processes to force negotiations," he said.
The laws would also undermine efforts to strengthen web security because they would change the way the domain name system (DNS) translates website addresses into IP addresses.
"What the extensions of those securities are trying to do is make sure that translation isn't somehow tampered with. So somebody that's in nzherald.co.nz, they aren't taken off to some malicious website, but they actually go to the New Zealand Herald website."
SOPA and PROTECT IP would force the domain name system to redirect through a page that checks for copyright violations, which would "break the Internet" and make strengthening security impossible.
He called for the New Zealand government to work within diplomatic channels and pass domestic laws that will express concern over the US legislation.
"Does it have much of an effect? Probably not, but I think it makes the point and it tries to get people to understand what the issues are."