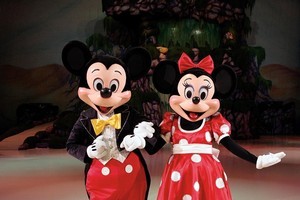 Like many posts on Twitter, it probably seemed like a harmless joke.
In June last year, the high-profile Egyptian billionaire Naguib Sawiris - the country's richest man - posted a picture of Mickey and Minnie Mouse dressed as conservative Muslims, provoking a storm of protest from critics accusing him of denigrating Islam.
But yesterday it came back to haunt Sawiris. Following the processing of a formal complaint, the prominent Christian businessman-turned-politician - who has developed numerous enemies among Egypt's swelling ranks of political Islamists - will now face a blasphemy trial over the images. The complaint was brought by a group of about 20 lawyers, despite Sawiris apologising for the incident after the images appeared.
After the post, which featured a bearded Mickey and his niqab-wearing girlfriend, he tweeted: "I apologise for those who don't take this as a joke, I just thought it was a funny picture; no disrespect meant. I am sorry."
Sawiris, estimated by Forbes to be worth about £2.3 billion ($4.5 billion), was also the victim of a boycott campaign following the incident, with Salafi organisations urging Egyptians to avoid his telecoms companies.
- INDEPENDENT