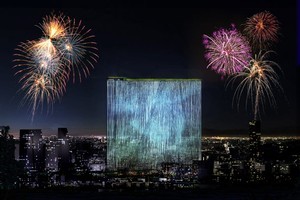 If ever a building could embody modern green technologies, it would be this design for "21st Century Oasis" by Sou Fujimoto Architects, which was recently awarded first place in Taichung City's Taiwan Tower International competition. It combines wind turbines, photovoltaic cells, rainwater harvesting and more, and as you can see from the images, the building would be a landmark that dominates the skyline
This convenient flat-pack tent design means that next time you're out camping and enjoying nature, you can rest easy knowing that you are contributing to preserving its beauty. The tent is made from cork, a renewable resource that also has ideal insulating properties and it is lightweight - perfect for a happy camping experience.
Batteries are difficult to recycle and as a result they find themselves languishing throughout homes, unused.
This eco-clock design gives those nearly drained batteries a last burst of glory. There are twelve slots on the face of the clock that each take an AA battery and the clock saps the very last of their juice. It even colour codes the batteries depending on their remaining life.