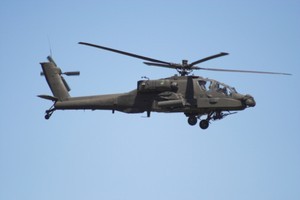 The United States military plans to add a new lethal drone to its fleet - a robotic helicopter for the US Navy equipped with laser-guided rockets, defence giant Northrop Grumman says.
The armed Fire Scouts will mark a new era in naval warfare, offering an alternative to pilots flying attack helicopters or fighter jets off ships and reflecting a broader shift to robotic technology across the US military over the past several years.
An unarmed version of the MQ-8B Fire Scout is already flying surveillance and reconnaissance missions for the US Navy, using cameras and sensors inside a cone on the aircraft's nose.
Northrop Grumman won a contract in September worth US$17 million ($21.9 million) to outfit the choppers with racks capable of carrying up to eight 70mm rockets, with four on each side, the company said.
"The operational system will be delivered by 2013," said company spokesman Warren Comer.
"By arming the Fire Scout, the Navy will have a system that can locate and prosecute targets of interest. This capability shortens the kill chain and lessens the need to put our soldiers in harm's way," George Vardoulakis, Northrop's vice-president for tactical unmanned systems, said.
The Fire Scout had its first flight in December 2006 and is due to be deployed on new littoral combat ships under construction.
The helicopter, which is 7m long and 3m high, can reach an altitude of 6000m, fly at a speed of more than 200km/h and stay in the air for more than eight hours, employing sensors and radar to track targets.
The Navy has about 15 Fire Scouts and plans to build 168 of the helicopters, according to the Pentagon.
- AFP