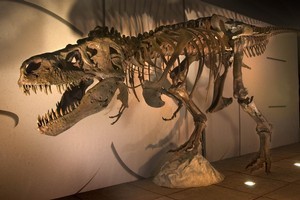 A new study has revealed the T-Rex grew at rates bigger and faster than previously imagined.
In a departure from earlier methods of modelling, scientists used mounted skeletons to generate body mass estimates.
The group of scientists used cutting edge technology and computer modeling to "weigh" five Tyrannosaurus rex specimens, including the Natural History Museum in Chicago's iconic Sue skeleton - the largest and most complete T-Rex skeleton to be found at 42 feet long and 13 feet high at the hips.
According to the study, Sue would have weighed an incredible 9 tonnes.
"We knew she was big but the 30 per cent increase in her weight was unexpected," said lead scientist Peter Makovicky.
The study found that during their teenage years, the massive dinosaurs would have grown at a rate 1790 kg a year - more than twice the previous estimate.
The rapid growth to gargantuan size came at the cost of speed and agility, according to the study, which concluded that T-Rex's speed slowed as they grew. This is because its torso became longer and heavier while its limbs grew relatively shorter and lighter, shifting its center of balance forward.
Despite that, at speeds of 17 to 40 kilometres per hour, you certainly wouldn't want one on your tail.