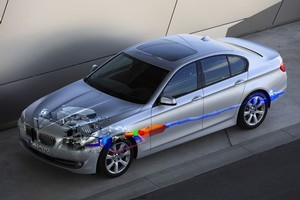 USE STEAM, PUNK: A couple of centuries ago steam engines were all the rage. Then came internal combustion. But motor vehicles are notoriously inefficient at converting fossil fuels into mechanical kinetic energy, and much of the generated energy is lost anyway as heat. Engineers at BMW EfficientDynamics are exploring adding steam power to vehicle engines. The Turbosteamer Project recovers heat from the engine exhaust and uses it to create steam to power an expansion turbine that generates electrical energy. Weighing up to 15 Kg, the unit should help save up to 10% of the fuel on a long journey. Never underestimate the driving power of hot air. BMW shows off its new trick here.
RESCUE ROBOT: The Gemini-Scout Mine Rescue Robot, designed by Sandia National Laboratories, is a small tracked vehicle that can cross rough ground and rubble, go up and down steps and stairs and handle being partially submerged.
Cameras and gas sensors send data back to an operator, and a thermal camera detects heat signatures. The robot's intended for mines , to help rescuers assess conditions. The controls are based on an Xbox 360 to make them easier to learn. So will an enterprising games designer start making 'rescue' games? Discovery News has more and there's video here.
WHERE'S THE BAT?: The GPS Logger from Telemetry Solutions weighs only 10 grams, and most of that is because of the battery. Data stored on the chip can be downloaded wirelessly from up to 500 metres. At that size the loggers are small enough to be used on bats, but they could also be used for objects we'd like to keep track of too. Don't bats live in caves where GPS wouldn't reach? Technology Review has details.
JELLY BATTERY: The liquid electrolyte in most lithium batteries is volatile and hazardous. UK researchers blended a rubber-like polymer with a conductive, liquid electrolyte to create a 'jelly'. The jelly can replace the liquid electrolyte, and make the batteries safer and a great deal cheaper. Safety's good but cheaper is even better. Full story at the BBC.
FUTURE GHOSTS: You think of a ghost town as a place that has outlived its usefulness, abandoned by residents who no longer want to live there. But in New Mexico Pegasus Global Holdings, a technology company, plans to build a new ghost town modeled after a typical American town of 35,000 people. They plan to spend $200 million to build a complete town, with roads, houses and commercial buildings, but no people, so that scientists and others can test their ideas. An example might be testing how to deliver solar systems to different kinds of buildings, or how efficiency differs between old and new buildings. And with no actual human beings around to mess up the study results. The Washington Post has more.
- Miraz Jordan knowit.co.nz