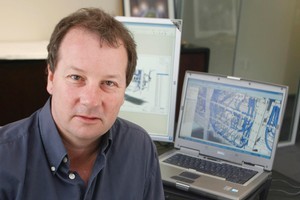 Right Hemisphere, a 3D technology firm founded in New Zealand more than a decade ago, has been snapped up by German software giant SAP.
The company, headquartered in California with a research and development branch in Auckland employing 45 staff, has not disclosed the purchase price.
Right Hemisphere received a US$8 million ($9.6 million) interest-free, three-year loan from the Labour Government in 2006.
At the time, then-Prime Minister Helen Clark said the aim of the controversial loan was to help establish and support a world-leading 3D digital content and graphics industry.
Critics said the millions Right Hemisphere received was an example of that government's ad hoc approach to technology funding.
Treasury, in a Cabinet policy paper, even said it had a "low probability of resulting in net benefit to New Zealand".
The loan was due to be repaid in just a few days time, after an extension on its initial three-year term.
Right Hemisphere chief executive Michael Lynch said the Government would get all its money back when SAP's acquisition was completed.
The company's founder and president, Mark Thomas said the SAP acquisition was "absolutely the right thing".
"We have an opportunity to take technology developed in New Zealand to the world."
SAP's Hans Thalbauer said the German corporation, which reported a more than €12 billion ($20 billion) revenue last year, had no plans to cut Right Hemisphere's Auckland-based R&D staff, and may even increase the workforce.
But technology commentator Peter Griffin said overseas firms often had the best intentions around keeping R&D workers in New Zealand when they bought local companies.
"It doesn't always work out that way," he said.
"I've covered many companies where it hasn't happened ... I think we over-estimate our ability to run R&D for global companies from down here in New Zealand - there are logistical issues around that."
Thalbauer said SAP saw Right Hemisphere as a "huge opportunity and a huge possibility".
The acquisition would allow the German firm to address business needs of its customers, including speed, productivity and quality, Thalbauer said.
The New Zealand arm of Right Hemisphere posted a pre-tax profit of just under $700,000 in the year to March 2010.
That was an improvement on years of losses, but auditors have raised concerns about the local arm of the firm's financial dependence on its American parent company, which had consolidated net liabilities of US$10.7 million at the end of March last year.
RIGHT HEMISPHERE
* Develops 3D software that allows companies to visualise their business processes from manufacturing through to sales and service.
* International firms using the technology include Boeing, Chrysler and Nike.
* Employs about 45 staff in Auckland, and the same number in other locations in the United States and Europe.