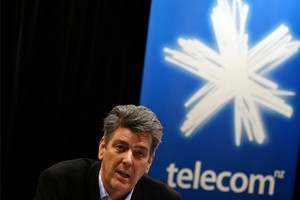 Telecom's split into a network company and service wholesaler and retailer now only hangs on a law change next month and a shareholder vote later this year, chief executive Paul Reynolds has told staff.
Telecom today won the bulk of the government's $1.35 billion broadband funding, and its Chorus unit will get a direct injection of $929 million via debt and equity, rather than establish a new local fibre venture with the government.
The shares surged 6.6 per cent to a 15-month high $2.43 in trading today.
See Telecom's full news release here.
See an outline of the agreement between Chorus and Crown Fibre holdings here.
In an internal memo, Reynolds said the demerger is subject to the Telecommunications (TSO, Broadband, and Other Matters) Bill passing in Parliament next month, and at least three-quarters of shareholders supporting a split when they vote towards the end of the year.
C2, the new network company, will take Chorus staff, the majority of wholesale, a small portion of the technology and shared services unit, and some of the corporate centre functions, Reynolds said.
It will get the fibre and copper access networks, and will only offer products to wholesalers. The remaining Telecom business will be a retail service provider taking its feed from the new Chorus.
"But it will be more than that too, Telecom owns a core network, a mobile network and will offer some wholesale and resold services to the industry," Reynolds said. "It will continue to deliver all the existing and planned services offered through Telecom Retail, Gen-i, International and AAPT."
The split will result in a "balanced regulatory environment for both Chorus and Telecom and leave each free to compete as normal businesses," he said.
The legislation was signed off by Parliament's Finance and Expenditure Committee last week, though Communications Minister Steven Joyce later decided against proceeding with a regulatory holiday that would have removed Commerce Commission oversight of fibre pricing.
Reynolds told staff he will be leading and coordinating the demerger process, with chief financial officer Nick Olson and general counsel Tristan Gilbertson working on the financial and legal planning.
The focus for Telecom from 2013 will now be on making a "leaner, fitter and faster retail service provider," Reynolds said in the staff memo.