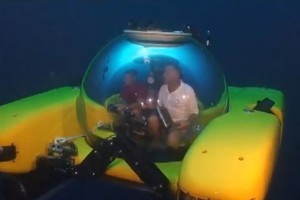 GREAT BALLS OF GLASS: Some parts of the ocean are so deep they are almost impossible to access. The Triton 36,000 is a full ocean depth submersible that aims to visit the 10,000 metre depths of the Mariana Trench. It will take 75 minutes to descend. A sphere of high-strength specialty glass can withstand 16,000 psi and holds 3 occupants. It becomes stronger as it's put under pressure. A wireless fibre optic system transmits light through the glass hull as projections on the inside walls, and the occupants use touchscreens to control everything. Take that, space programme. More at Race2InnerSpace and video on YouTube.
BENDY PHONE: The PaperPhone from Queen's University, Canada, is a smartphone prototype. A 9.5 cm diagonal thin film flexible E Ink forms its display. Because it's flexible, users can interact with it by bending it or writing on it with a stylus.
The bending gestures actually look harder to use than touch and tap. More at HumanMediaLab and video on YouTube.
PROSECUTION TARGET: US Apache attack helicopters are being fitted with a new high-tech Ground Fire Acquisition System. Cameras and infrared sensors will detect muzzle flashes from the ground and pinpoint location with an icon on the pilot's screen. Then the location will be used for targeting. Or as the military say "... take information about incoming fire, get our sensors on it and identify and prosecute ground targets". I'm so glad that in my world 'prosecute' involves lawyers not guns. More at theUS Army.
HUMAN HELICOPTER: In a couple of days a human-powered helicopter from the University of Maryland aims to win a big prize. The Gamera is made from lightweight materials such as balsa and carbon fibre. It has a rotor at each of the four ends of its X-shaped frame. At the centre is a module where a pilot sits, pedalling by hand and foot to drive the rotors. if they rise to 3 metres, hover for 60 seconds and stay within a marked square they will win $250,000. Their pilot had better be in top form. Good luck. More at AOPA.
$50 PC: If you think every schoolkid should have access to a computer to learn about programming then the Raspberry Pi might be an answer. It's a thumb-drive sized $50 computer with a USB connector for a keyboard at one end and an HDMI connector at the other. It sports a 700MHz ARM11 processor and 128MB of SDRAM, and runs Open Source software. An SD card provides storage. It should be available within 12 months. Smart businesses will sponsor these for local schools. More at Geek and video on YouTube.
- Miraz Jordan knowit.co.nz