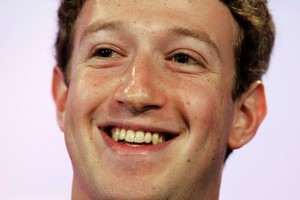 Status update: Mark Zuckerberg has bought his first McMansion. According to local newspapers, the world's youngest billionaire recently spent $USD7m (NZD$8.9m) on a crash pad in Palo Alto, a 10-minute drive in his eco-friendly Acura from Facebook's soon-to-be-opened headquarters in Silicon Valley.
The 5,000sq ft pile may lack what readers of a snobbish persuasion would describe as "character", but it does boast features commensurate with its 26-year-old owner's status. In addition to five bedrooms and five bathrooms, there's a saltwater pool, glassed-in sunroom, and planet-destroying outdoor fireplace.
Until now, Mr Zuckerberg has lived remarkably modestly, renting a sparsely furnished starter home near the office where he spends roughly 16 hours a day. Last year, Oprah Winfrey was allowed inside, revealing that at least some of his furniture was sourced from Ikea. On her grand tour, the chat-show host persuaded Mr Zuckerberg to perform an awkward kiss with Priscilla Chan, the girlfriend he met at Harvard and who still shares his life. The music "alcove" at the new Zuckerberg residence, which the couple will move into during the coming months, contains her favourite instrument: a grand piano.
With a net worth estimated at $13bn and rising, Mr Zuckerberg could live more grandly. But ostentation has never been his style. In fact, this property investment is believed to have been largely motivated by concerns about security, rather than a sudden appetite for setting down domestic roots.
The address of Mr Zuckerberg's previous rented property was widely known, and its front door was accessible from the street. Four months ago, he was forced to take out a restraining order against a male stalker who turned up on his doorstep with a note saying: "I am ready to die for you. Please, Mark, please!"
- INDEPENDENT