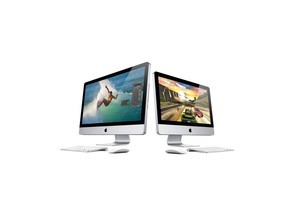 Apple announced overnight that it has beefed up its iMac all-in-one desktop computers with powerful new-generation Intel chips and high definition cameras.
The latest iMac computers were touted as 70 per cent faster than their predecessors with a threefold improvement in graphics.
New iMacs were available at Apple stores and the California firm's online shop with prices starting at $1999 for models with 21.5-inch screens and $2799 for models with 27-inch screens.
"Our customers love the iMac's aluminum enclosure, gorgeous display and all-in-one design," said Apple senior vice president of worldwide product marketing Philip Schiller.
"With next generation quad-core processors, powerful new graphics, Thunderbolt technology and a FaceTime HD camera, we've made the world's best desktop even better."
- AFP