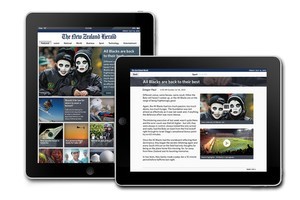 The NZ Herald iPad application has been awarded official honouree status at this year's Webby Awards.
Strangely, the app, as well as a similar app from stuff.co.nz, hasn't been included in the tablet category, and has been classified in 'News - handheld devices'.
Honouree status means that while the app wasn't in the top five (which are classified as nominees) its quality warranted special mention.
Nominees in the category were Associated Press, BBC News, CNBC, Engadget and NHK World TV live.
New Zealand ISP Orcon has been nominated in the Interactive Advertising section for its Orcon Living Office project.
Voting for the 2011 Webby Awards opened this week.
- NZ HERALD STAFF