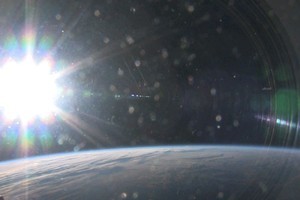 FIRST IN SPACE: 50 years ago, on 12 April 1961, Yuri Gagarin made the first human flight into space, launching aboard the Vostok 3KA-3. From launch to landing, he flew for 108 minutes. He orbited 327 Km above the earth at a speed of 27,400 Kph. He said: "Orbiting the Earth in the spaceship, I saw how beautiful our planet is. People, let us preserve and increase this beauty, not destroy it!" Words to live by. More at YuriGarin50 and video on YouTube.
INTERGALACTIC AIRPORT?: There's a new San Francisco International Airport terminal. And one of the first planes to arrive there was Virgin Galactic's SpaceShipTwo. They say commercial flights on the spacecraft will begin within a year or two. And to think this is the 50th anniversary of Yuri Gagarin's first orbit. Details at Wired.
HIGH ASPIRATIONS: Jeddah is a city on the Red Sea in Saudi Arabia. The Kingdom Holding Company plans to build a new city some 20 Km north of Jeddah which will accommodate 80,000 people. At its centre will be a tower twice as high as the world's current tallest man-made structure, the Burj Khalifa. The Kingdom Tower will be 1.6 Km tall, and include offices, housing and power generation, as well as retail, conference and hotel facilities. Well, it's ambitious. More at GulfNews and video on YouTube.
ZEBRA SPOTTING: You know, zebras look a bit like walking barcodes, even if it is a bit hard to tell them apart. Using that similarity, a team of US researchers has come up with StripeSpotter. The software analyses a still photo of the side of a zebra. The image is 'sliced' horizontally and each pixel is encoded as either black or white. Each string of pixels then forms a StripeCode, rather like a barcode. This can be used to distinguish individuals. Although very cool, it's a shame it relies on photos: they need to find a way to use the system in real time while observing. More at NewScientist.
ALL WEATHER T-SHIRT: A team of researchers from Northeast Normal University in China coated cotton textiles with zinc oxide nanorods and crystallites. The material repelled water and also had a huge UV rating of 101.51. They hope to create multifunctional fabrics. The new fabrics should be a boon to sportspeople. More at DiscoveryNews.
- Miraz Jordan knowit.co.nz