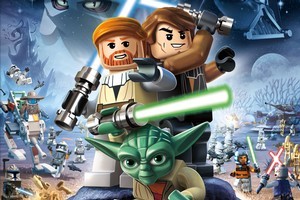 The latest in a long line of Lego-based titles, Lego Stars Wars 3 - The Clone Wars is based on the animated telly series, and puts players into a tried-and-true formula of good laughs, huge amounts of gameplay and the need to almost endlessly revisit levels to complete collectable goals.
The epic battles against wave upon wave of murderous robots are intense, all the while players collect enough studs to earn "True Jedi" status.
You can switch between various characters, including some from the Clone Wars spin-off. And one of the most entertaining aspects for "proper" Star Wars fans is the chance to chop up Jar Jar Binks with a lightsabre, watch him respawn and do it again. That's replay value.
As with most Lego games, the best value is in two-player action, with some strategy-required set pieces that require co-op work to avoid ending up as a pile of dismembered bricks. There are also some entertaining space missions while graphically, the environments have improved, making better use of lighting effects and with frame rates high and stable even during epic on-screen scraps with numerous enemies.
Verdict: Though not offering anything different to stave off Lego game boredom, it's a good title and a worthwhile purchase for those who enjoy the addictive quest for collectables.
Stars: 4/5
Classification: PlayStation 3 (also Xbox 360, Wii, NDS)
Rated: PG
- TimeOut