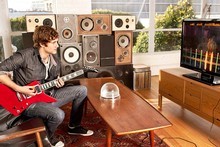 The great art of pretending to play guitar has proven to be gaming gold in recent years.
An unnatural progression saw legions of head-banging mulleted lounge room air guitarists reinvent themselves and take to shredding on plastic instruments.
Gaming behemoth Activision broke serious new ground when the hard-rocking rhythm game Guitar Hero was released.
It peaked in 2008 with a mammoth US$1.7 billion ($2.36 billion) in sales, before enthusiasm waned, and its publisher pulled the pin last month.
The incredibly successful franchise saw 32 million game sales and huge numbers of plastic guitar controllers sold over its lifespan.
Now Ubisoft is having a crack at the axeman-wannabe market, with a game that can be played on any real electric guitar, including acoustic guitars with in-built pickups.
Details are still a bit sketchy on Rocksmith, but we do know that Ubi is claiming gameplay adapts to a player's skill level and promises it will be as engaging for experienced players as it is for first-timers.
Using a cable with a USB plug at one end and a jackplug at the other, any guitar can be plugged directly into a PlayStation 3 or Xbox 360.
It will include a "sizeable library" of songs a la-Guitar Hero, with so-far announced artists including the Rolling Stones, Bowie and Nirvana.
It is likely to follow the model of charging for a constantly updating collection of downloadable tracks.
Rocksmith is great news for guitarists, sick of simply aping on-screen colour cues by pushing buttons on a plasticky guitar.
And while there is no doubt that Guitar Hero and EA's Rock Band series drew many into learning proper guitar, this - if executed properly - will take it to a whole new level, giving game geeks and air guitarists the chance to learn how to do it for real.
Made to play nice
It remains to be seen if Rocksmith will feature Ozzy Osbourne biting the heads of random wildlife while you replicate Tony Iommi's solos note for note. But plenty of games rely on violence. And having little Jimmy blowing the head off a space mutant in a spray of guts generally doesn't go down too well with parents - and rightly so.
With titles like the new R18-rated ultra-violent gorefest Bulletstorm, obvious hot property for kids keen to get their hands on forbidden videogame fruit, it pays for parents to have some control over what kids can play - even when they're out of sight.
With this in mind, the Interactive Games and Entertainment Association (iGEA) is helping concerned parents to keep their children's game machines safely confined to playing only age-appropriate titles.
A series of videos hosted by Auckland journalist Kate Palmer and iGEA ambassador Stephanie Brantz have been posted on the iGEA YouTube channel that explain how to activate and set parental controls on PlayStation, Xbox and Wii as well as on PC. The videos also show how to limit the amount of time kids can spend playing.
For the parental control guide go to:
http://www.youtube.com/user/igeavideo
By Matt Greenop

Email

Matt