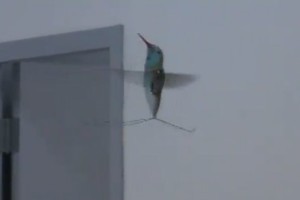 BIRD OR NOT BIRD?: Is that a hummingbird on the feeder or is it a spy device? AeroVironment have developed the Nano Hummingbird aerial reconaissance vehicle for DARPA. The 19 gram Hummingbird flaps its wings to fly at up to 17 Kph. It can hover for 8 minutes, sending video images back to base. Imitating nature for spying is just downright creepy. More at Kurzweilai and video on YouTube.
GREEN FOR STOP: A new stretchable organic laser could quickly show problems with coloured light. A sheet of stretchable material is specially prepared to have a wavy surface, then a liquid mixture of organic molecules is applied. Under UV light the molecules normally emit red light, but if the material is distorted by strain the emitted light changes colour. I predict this'll be used in clothes for night-clubbing. More at TechnologyReview.
RAISE YOUR FACES PLEASE: Computer scientists in Arizona are tackling the challenge of creating photos that blind people can see. They've started with social networking profile pictures which they abstract with specialised software to keep major facial landmarks. The images are sent to a tactile printer that puts raised lines along the facial features. Next they're exploring how to generate tactile images from online mapping sites. Hmmm, roads or topography? More at DiscoveryNews.
FATIGUE SENSOR: An iSense device could help athletes train better. The device from the University of Essex can predict and detect the status of muscles during training, based on tiny electrical signals they produce when contracting. Detecting muscle fatigue promptly may help prevent strain and injury. The researchers are hoping to make the
device smaller, more portable and able to connect to an iPhone. And
how about direct to Twitter: "I'm tired", "Fatigue in 40 seconds and
counting". More at the University of Essex.
OFFLINE OOPSIE: The United States Department of Homeland Security recently shut down 10 websites allegedly selling counterfeit goods or trafficking in child porn. In the process they also accidentally shut down 84,000 websites that weren't accused of anything, many belonging to businesses. The DHS seized the domain of a large DNS service provider and also seized all its subdomains. It took several days to fully restore all the wrongly seized domains. It's good to shut down child abuse sites, but with care, please. More at TorrentFreak.
- Miraz Jordan knowit.co.nz