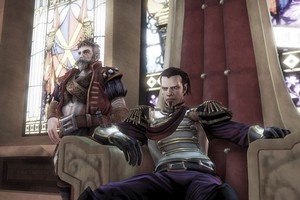 The hero of Fable II is dead and the new monarch, his eldest son Logan, uses fear and oppression to control his subjects in a most unheroic fashion. The only person who can make a difference is Logan's younger sibling, who must raise an army to stand against him.
Fable III follows Albion's youngest royal, travelling the continent in search of support from neighbouring countries. It's easy for a wannabe ruler to promise the earth when they're stabbing their way along the road to greatness, but keeping those promises once the sobering realities of actually governing a nation present themselves will prove to be mightily difficult.
How many of those grand promises can you keep, really? The choices you'll have to make will ultimately determine if the citizens were better off with your bloodthirsty brother on the throne.
The voice cast is a line-up of UK megastars, and it almost feels treasonous not to play this without a pot of tea brewing nearby - or by breaking into the occasional silly walk - as Monty Python legend John Cleese breathes life into Jasper, your medieval PA.
Sir Ben Kingsley plays the role of Sabine, the wise and mirthful ruler of a village of outcasts, and Simon Pegg, who seems to be in just about everything these days, plays a mouthy soldier named Ben Finn. Zoe Wanamaker, perhaps best-known these days for her turn in Harry Potter, returns to voice Theresa, the blind seer who guides your hero on the road from sleepy-headed layabout to ruler of the known world.
Look out for a guest appearance from Skins star Nicholas Hoult, depending on what choices you make early on.
The action sequences are frantic affairs, but they happen at well-paced intervals so players can enjoy building their families and businesses without needing to think about their swords every five minutes.
Your offensive options are streamlined into melee, ranged and magical attacks, with your weapons morphing over time depending on how you use them and how you conduct yourself. Kill too many innocents, and your weapon might drip with blood - or amass a great deal of wealth, and see it become increasingly ornate.
Your enemies will see it too, and respond appropriately. Walking through an apparently-deserted forest with a golden sword will attract the attention of fortune-seeking mercenaries, intent on taking your shiny things for themselves. Very clever.
As your hero moves around, you are presented with opportunities in which to create your reputation as someone of high or low moral standing; a rip-off merchant; a lenient landlord; a promiscuous lover with a partner - or several - in every town.
As with real life, sexual encounters have consequences. The game helpfully tracks these: "Troy is online, he has 4 STDs." Cheers, thanks very much.
You can also steal, vandalise and murder. If you get caught, your reputation is stained forever and, because of an apparent quirk in the programming, you can be reminded of this at the oddest of times.
My hero's new wife said that we would be "so happy together", then "you're not looking for your next victim are you?", then "holding hands makes me weak at the knees" and finally "you're the psycho who killed my best friend." It sounds a bit more like Eastenders than Lionhead Studios might have envisioned.
If there's anything to complain about, it's the hordes of citizens who chase you from place to place with gifts and quests. It's nice to have options, but not when they cause your graphical user interface to go haywire or banter loudly during key cutscenes.
In one horrible scenario, a pushy lover stepped into a conversation I was having with an anxious chicken farmer and his bolshy wife. The two interactions overlapped, the GUI locked up and the game could go no further. Back the last save point with you, hero!
Verdict: A fascinating mix of role-playing, slash-em-up and The Sims, Fable III has extraordinary depth - even for games of this generation.
You can do practically anything you want. Rule like a goody two-shoes man of the people and watch your empire flourish for a while before collapsing because you spent the nation's wealth on social welfare, or tax your people into the grave and become even more of a tyrant than your brother could have ever dreamed of. Everything you do - however small - has a consequence. It's an exciting prospect that should entice you to slog your way through the slums of Bowerstone and battle through the beautiful Mistpeak Valley more than once.
*****
Xbox 360, Rated R16