A round-up of the latest technology news from around the globe.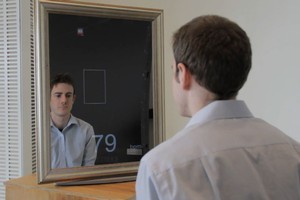 NAKED 3D: New TV sets from Toshiba make standard film and TV look like 3D. A special lenticular sheet creates an array of 9 overlapping images. Viewers sitting in the right place see different images with each eye, so the picture seems to be in 3D. Let's begin the family arguments about who sits where. More at the BBC.
SHARK CAM: The National Geographic Society found a way to attach video cameras to shark fins so they didn't slide off straight away. Attached cameras record video, sound and other data such as temperature, water depth or movement. Locator beacons allow the units to be retrieved when they eventually detach. See with the eyes of a shark. More at CNN.
VISIBLE HEART: Check your pulse, respiration and blood pressure by looking in a mirror. A student at the Harvard-MIT Health Sciences and Technology program placed a webcam behind a 2-way mirror to measure slight variations in brightness caused by the flow of blood in the face.
Signal-processing software extracted the relevant vital signs
and displayed the results in the mirror. One more thing to worry about
every morning. More at MIT and video on YouTube.
CHANNEL VISION: Bar-Ilan University in Israel engraved concentric rings in spectacles. The rings shift the phase of light waves. Correctly manipulating the resulting interference creates a channel rather than a single point of focus. The upshot: wearers can see both near and far in perfect focus; bifocal or progressive lenses are not required. Not just seeing circles before your eyes? More at NewScientist.
MOON VIEW: Bootleg copies of the original Apollo 11 moonlanding tapes have been found and restored to create clearer and more extended footage of the event. NASA erased the original magnetic tapes, but a
bootleg VHS copy included clear footage of the one small step. That
must be one of the worst archiving decisions ever made. More at AustralianGeographic.
- Miraz Jordan knowit.co.nz