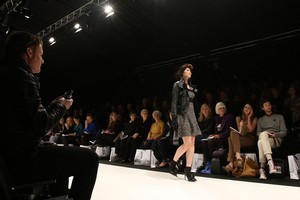 iPhone camera app Snapr created a picture cloud over a map of the CreativeTech conference a couple of weeks ago, and the concept was interesting enough to lead to communication with the Snapr guys, who are currently working their magic over in New York.
When you're at almost any happening these days, there's a sort of Twitter cloud going up around you. This may suit those who like to bend their heads down and tap words out while they're attending things, but that's certainly not everyone.
Snapr does the same except with photos. All you do is boot the Snapr app up and take the picture; you can add a comment that will go to your twitter feed if you want the best of both worlds, and the Twitter feed, using whatever the relevant hash-tag is, will appear on the page too.
Press 'Upload' and the tweet and picture spin up into the ether (seemingly), and within minutes they appear on the site.
This was working on the CreativeTech site.
The Snapr guys built the CT widget while on a plane between New York and Buenos Aires, sent it on arrival and Auckland web developers BoCaPa quickly integrated it into the CT site in about 30 minutes, well in time for testing two days before the first keynote.
It's a fascinating idea. Over a year ago, when people were first starting to get excited about location-based gaming and other pastimes like FourSquare, New Zealanders Rowan Wernham and Edward Talbot came up with an end-user concept for Snapr, an app that integrated photos taken with camera phones into a map of the location.
Rowan's original idea was a "sort of crowd-sourced paparazzi", but he soon realised that it could be much more general. "If you bring in lots of peoples' camera phone photos and can see them all on a map, with the aim of showing what's going on where you are right now, that's about as simple as it gets."
Rowan, who had a user interface background, designed a sort of proof-of-concept prototype in Flash for the interface, and they took that to the renowned Auckland app developers Cactus Lab to design the iPhone app that resulted.
A web development company, ME&A Mobile built the beginnings of the server-side architecture, and also kicked off the website which is built off the Google Maps API.
Now the pair do the bulk of the server-side development in-house.
Rowan is excited about using apps like Hipstamatic to take the photos with, then uploading them via Snapr. That way they're putting a slightly more individualised, even artistic angle on their event snaps.
That's already possible - you can use Snapr to take a picture, but you can also use it to access your Camera Roll, the iPhone's repository of pictures you've already taken.
But the Snapr duo would also like to try the service as a photo option for Twitter clients, plus they're interested in rolling the service into existing camera apps - Hipstamatic and ShakeIt!Photo spring to mind (but there are other artisan photo app candidates). They're also looking at developing Snapr for other smartphone platforms.
Edward just attended New York Fashion Week with press accreditation for Lucire magazine. Unlike CreativeTech, at which anyone using Snapr in the area had their pictures tagged to the event's map, Lucire magazine's embedded Snapr widget was designed to only show the images from one Snapr account.
Edward: "Actually the first day I had Rowan's iPhone as well, shooting with one in each hand, so I could use different filters and upload faster - and I definitely had some funny looks.
It was a good way to instantly show their readers what the event was like; some of the people and general interest. Also now the Snapr main website has a good record of the event, which can be added to at the next Fashion Week, and so on - building a history up."
"For NZ Fashion Week we approached it the same way as CreativeTech, marking out the area to capture all Snapr content coming through. We hope to get enough content coming through, as well as with the Twitter stream to the right, to give anyone who looks at the live page an idea of what's going on at New Zealand Fashion Week."
See the NZ Fashion Week live page here.
"It feels very early days with this idea, and so far its a great start for us (Creative Tech then NZFW)... so it'll be really cool to keep developing it to be more engaging across the board; for viewers, uploaders, event organisers, associated brands and magazines."
Rowan: "At Fashion Week it's kind of 'photo first' because its a visual event. Taking a photo is the starting point - from there you can also tweet your shot, and share out to other social and location based services (coming soon!); that's the ethos of Snapr."
At the CreativeTech wrap session, at which six guests talked about tech and the future and during a discussion of modern society, artist/photographer Dieneke Jansen remarked on those people who "rush home from parties to check Facebook to see if it was a good party of not." This raised a laugh - albeit an embarrassed laugh for some.
Snapr's way faster than that! I can imagine, if it really takes off, people crowdsourcing Snapr events just to be part of a picture cloud springing up over a location.
Try it - download the free Snapr app, register (also free) and you too can be part of the visual geolocated social media revolution.
If you are interested in using this service at your event, email events@snapr.me.

- Mark Webster mac-nz.com