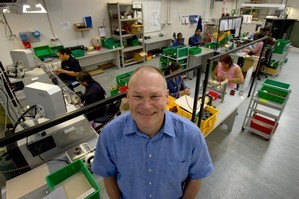 Listed electronic motor maker Wellington Drive Technologies is undertaking a special share offer to its present investors to secure new capital.
The company says the extra finance will cover near-term operating losses, as well as funding new product launches and expected increases in orders.
Wellington Drive Technologies chief executive Ross Green said the company had received strong indications about future orders from its customers around the globe.
The Albany-based firm's motors are used in many applications, including refrigerated drink cabinets and ventilation units.
"Our mantra and our direction for the last year has been to work through the cash that we had on hand - and you can do that - but it doesn't put us in a position to grasp the opportunity that appears to be in front of us," he said.
The company, founded in 1986 but significantly restructured in 1998, has so far failed to turn a profit.
In the six months to June 30, the firm reported a bottom-line loss of $6.6 million, down from a $9.9 million loss reported in the previous comparable period.
Green said some of the funding gained through the share offer would be used to safeguard the company's supply of the components required for its motors.
In recent months there had been an acute shortage of many components, he said, and the firm had to be ready to buy them when available.
"You have to start ordering and committing to component supplies about 16 weeks out from the manufacturing start date."
Green said the company needed to take the risk of assuming that the order forecasts it was receiving from its customers were genuine, and to do that it required capital on hand to ensure demand could be supplied.
Company chief financial officer Steve Hodgson said the share offer was "open ended" and the firm did not have a clear idea of how much would be raised.
Shareholders were being offered a discount of 15 per cent on the average closing price of the stock over the five days before, and including, September 15.
The issue price will be announced at mid-day on September 16, and shareholders may apply to buy extra shares up to a value of $10,000.