This week, Google's chief executive issued a stark warning about putting private information online. Chief reporter David Fisher reveals how we can be tracked down and embarrassed by our own internet disclosures.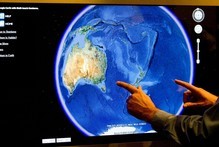 These events really happened.
The home owner who was busted for not having a building permit after a council inspector spotted an alteration using Google Earth. The bank that tricked creditors into being online "friends" to get its money back.
If you have an online life, you share it with the world. Actress Keisha Castle-Hughes changed her Facebook status to "single" and so announced her separation from the father of her child. Kate Hawkesby tweeted her $400 speeding ticket to the world; hip-hop star Scribe (Malo Luafutu) tweeted his night out: "Hit 2 clubs, got on the mic, had a car crash, punched a guy in the face."
Google chief executive Eric Schmidt warned this week that young people were posting so much personal data on the internet that many would be forced one day to change their names to escape their cyber past.
And yet people keep living their lives online - even though a recent UMR Research survey for Privacy Commissioner Marie Shroff found 83 per cent of people were concerned about the security of their personal information on the internet. But they're still putting their lives out there.
The same survey found 57 per cent of Kiwis believed social networking sites such as Facebook were private spaces.
Kiwis were racing to social networking, the survey found. Almost half (43 per cent) of Kiwis have a social networking site. It is not just a game for the young. While 80 per cent of those aged 18-30 used social networking, more than half of 30-44 year olds and a third of 45-59 year olds also used those sites.
Our desire to share our lives is a critical tool for Daniel Toresen, at Thompson and Toresen Investigators.
"It's really good for insurance investigations," he says. When a client raises a question about a claim, Toresen will check the Facebook page of the person who filed it.
A recent investigation in the lower North Island was assisted when one person believed to be involved co-operated by providing his Facebook password. Access to that person's page let Toresen view his friends - and one of those people was being coached over how to answer questions if interviewed about the crime.
* * *
The struggle with Facebook, says University of Auckland commercial law senior lecturer Gehan Gunasekara, is that the underlying principle of the site steers users away from privacy.
The default settings for a new account means information is open to the world. Users need to be wise about online security to know that security settings need to be changed.
Gunasekara says the difficulty for users is that greater privacy actually defeats the point of being on a social networking site.
There used to be "very little privacy", he says. We lived in small villages, didn't have walls between properties and knew all there was to know about each other's lives.
Then, the walls came up. Lives became busier and insular. Our communities became distant.
The advent of social networking has turned society back and "before you know it we're back in the village".
"Maybe privacy was a temporary blip. Maybe human beings don't really like privacy."
In a 2008 paper on privacy, Gunasekara wrote that even social media users who avoided using their real names or full names could be tracked. Users had no problem telling the online world their favourite places to "hang out" or where they visited on weekends.
"When combined with photographs these individuals posted of themselves or their friends, it would not be difficult for a complete stranger to locate them physically in a public place and follow them home."
Indeed. The Herald on Sunday has done this through information found online. And if we did it, anyone with an internet connection could do it.
* * *
So much of the Michael Laws scandal happened online. The material he believed was going to be released was electronic, having been swapped between two people who had never met but were "Facebook friends". One of those was his lover, Jacqueline Sperling, who was on home detention in her east Auckland home after being convicted on a methamphetamine-related criminal charge.
Her outlet was her blog, which detailed her past as a prostitute and drug addict - and Facebook.
She had a network of 140 or more friends, including 21-year-old Jevan Goulter, a Wanganui mayoral candidate who had been needling Laws to the point of fury, also through Facebook.
Online, friendship is as instant as a click of a mouse button - a more instant connection than even Laws managed with housebound Sperling.
She and Goulter had swapped emails and Laws was led to believe she had passed over "salacious" details of his love life, which were going to be exposed in Sunday newspapers.
The painful irony for Laws must be that no Sunday newspapers knew the information existed until he announced it.
Fairfax and Herald on Sunday reporters made contact through Facebook on Friday night - "I am not a slapper," she declared. It was her internet footprints that identified her - angry online messages about her belief (later retracted) that Laws was seeing other women.
By late Saturday, though, she was back on Laws' side, stating: "I did not properly appreciate that a Facebook posting is essentially a public posting, rather than just to the friends you are intending to send the message to."
The Herald on Sunday wanted to speak directly with Sperling. We found her through Facebook - and anyone using the website should be aware of how we did it.
Picture editor Chris Marriner obtained access to her Facebook page through one of Sperling's online "friends". Facebook's privacy function allow users to leapfrog through people's social networks. This gave us access to her online musings, updates on life and photographs of her family.
Based on comments made online, Marriner was able to narrow the geographical location of her home to two suburbs in East Auckland. A closer look at the photographs showed she lived on a cul-de-sac. Marriner pulled up Google maps and noted each cul-de-sac in those two suburbs.
By then, a reporter and photographer were in the car heading for East Auckland. Marriner walked those streets - virtually - before they arrived, using Google Street View to compare the Facebook photographs with the houses on the streets. By cross-referencing information from Facebook and Google applications, he put our people on Sperling's front doorstep.
It wasn't the first time we had achieved this.
Three months ago, when controversial financier Mark Hotchin vanished to Hawaii, all media were desperate to find his holiday home.
A photograph was posted on Facebook from someone who visited Hotchin. It didn't show much - the view from the house, a pool in the foreground and the headland across the bay.
Photographer Jason Dorday pulled up satellite images from Google Earth and crawled the coastline until he found the headland that matched. That identified the beach - and a trawl of mansions advertised for rent on that coast included photographs showing the same distinctive pool.
* * *
Our social networking pages make us all news publishers.
However, Privacy Commissioner Marie Shroff says "enthusiasm has gone ahead of good judgement". The large numbers of people who have raced to embrace Facebook have little care for who might view the material - or how they might use it.
When you sign up, "your information is no longer yours". "It's out there and being used to build a network from which a big international corporation is making money. It's not a free space. It's not a playground."
By David Fisher @@DFisherJourno

Email

David