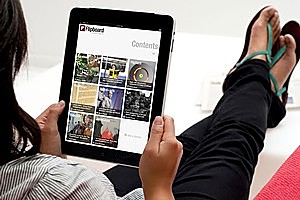 ASPEN - A startup backed by co-founders of Twitter and Facebook launched an iPad application that takes links to news stories posted on social networks and presents them in a magazine-like format.
Flipboard, which is available for free through Apple's App Store, eliminates the need to scan through streams of Facebook updates and Twitter messages and click on each individual link to view the media content posted by friends.
Flipboard takes the stories and photos linked to by friends on Facebook and Twitter and lays them out on the full-colour screen of the iPad tablet computer like on the pages of a magazine.
Users can personalise the content on Flipboard, create their own sections around particular topics, and quickly flip through the latest material posted by friends on social networks by using the iPad touchscreen.
Flipboard, which is seeking to make money through advertising, also offers curated sections on topics such as sports, news, technology and style taken from popular Twitter feeds.
Flipboard is the brainchild of Mike McCue, the former chief executive of Tellme, a telephone applications company which was acquired by Microsoft for US$800 million in 2007, and Evan Doll, a former iPhone engineer at Apple.
The Palo Alto, California-based Flipboard has received $10.5 million in funding from Twitter co-founder Jack Dorsey, Facebook co-founder Dustin Moskovitz, Hollywood star Ashton Kutcher, the husband of actress Demi Moore, Kleiner Perkins Caufield & Byers, Index Ventures and The Chernin Group.
Flipboard is to be given its first public demonstration at the Fortune Brainstorm Tech conference which opened in Aspen, Colorado, last Thursday.
Flipboard said its aim is to combine "the beauty and ease of print with the power of social media" in a "social magazine that brings to life the stories, photos, news and updates being shared across Twitter and Facebook."
"With over one billion messages posted every day, social networks are quickly becoming the primary way people discover and share content on the Web," Flipboard co-founder McCue said.
"The result is a huge influx of incoming messages and links people must sort through across multiple websites just to stay up to date," McCue said.
"We believe the timeless principles of print can make social media less noisy, more visually compelling and ultimately more mainstream," he added.
Flipboard's debut attracted a great deal of interest, so much so that its servers were overwhelmed.
An attempt to link up a Twitter account with Flipboard was met with the statement that "Flipboard is currently overcapacity. Please try adding your Twitter account later."
A bid to add a Facebook account also met with defeat.
"Due to overwhelming interest we are currently limiting the rate at which we are accepting new Facebook and Twitter connections," Flipboard said. "We are working for the next several hours on deploying new server infrastructure"
- AFP