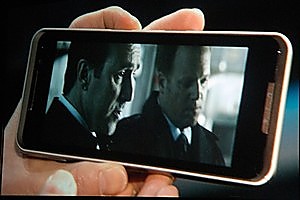 NEW YORK - A consortium of entertainment, technology and electronics companies have announced plans to launch a platform that would allow users to buy digital content and play it on multiple devices.
"UltraViolet," as the project is called, would let consumers store movies or television shows in a sort of "digital locker" on the web and then play it on the device of their choosing.
The venture is backed by Adobe, Best Buy, Cisco, Comcast, Fox, Intel, LG, Microsoft, Motorola, NBC Universal, Netflix, Nokia, Paramount Pictures, Philips, Samsung, Sony, Toshiba, Warner Bros. and others.
The nearly 60 companies have joined forces in what they are calling the Digital Entertainment Content Ecosystem, or DECE.
Several major players including Apple - which distributes movies, music and television shows through its online store iTunes - Amazon and The Walt Disney Co.
are not members.
"With UltraViolet, consumers will be able to purchase a title once, and enjoy it anywhere and any time they wish," said Thomas Gewecke, president of Warner Bros. Digital Distribution.
DECE said UltraViolet "represents a new way for consumers to have greater choice, confidence and freedom in how, when and where they enjoy digital movies, TV shows and other entertainment."
"UltraViolet will allow consumers to watch their digital entertainment across multiple platforms, such as connected TVs, personal computers, game consoles, smartphones and tablet PCs, in an easy, consistent way," it said.
"Our goal is to firmly establish UltraViolet as the symbol for digital entertainment - one that gives consumers the freedom of access wherever they are," said DECE president Mitch Singer, the chief technology officer of Sony Pictures Entertainment.
DECE said it would release technical specifications and licensing details for companies who want to take part in UltraViolet later this year.
- AFP