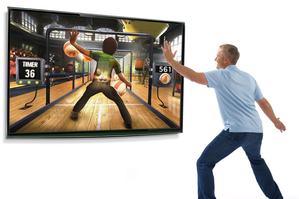 For a war zone, the show floor at gaming's annual mega-conference E3 looked pretty goofy.
As console titans Sony and Microsoft battle for motion control superiority, players are seen flailing their arms about like whistle-fetishist Italian midfielders as they come to grips with two new ways of interacting with games.
Microsoft's new Kinect system does away with controllers altogether, using a trick array microphone and camera peripheral to map players' bodies and then use their movements to control gameplay.
Sony's Move system bears more of a resemblance to the ubiquitous Nintendo Wii in that it still uses controllers - basically sticks with glowing, LED-fed balls on the end that are mapped by the PlayStation Eye camera.
These advanced developments put us in a very interesting time for gaming.
Kinect, it must be said, truly has the power to change the way we play games - and it probably will.
Having delved into the launch game line-up, there is plenty to amuse party game fans, dance enthusiasts and even bendy yoga folk. But hardcore gamers aren't likely to be putting down their old thumb-powered controllers any time soon.
Games like Kinect Adventures and Joyride were appealing to play in a party atmosphere, and certainly suit family gaming. You do feel like bit of a doofus waving your arms around in front of the TV, but when everyone else is doing it, it's not so bad.
Adventures groups ball games, wild river rafting and more in a multi-player-friendly collection, while Joyride sees players grabbing a non-existent steering wheel and making their way around fast fantasy tracks. To drift, stick your bum out in the opposite direction of the slide, to boost, yank the "wheel' back rapidly.
Energetic dance title Dance Central attracted a lot of attention, with players copying moves from on-screen characters - often taken from choreography in music videos - and Kinect rating the accuracy of moves. For those with two left feet, there's a "break it down" mode which slows the music and the moves while they are perfected.
In a solid swing at Wii Fit, the very impressive Your Shape: Fitness Evolved scans users' bodies before they tackle a variety of exercise and fitness activities from circuits with a personal trainer to yoga and t'ai chi - all without a balance board or the need for a controller.
Kinectimals sees players interact with cute animals like tiger cubs, playing fetch and similar, and Sports goes down a similar path to Wii's Sports and Sports Resort.
This line-up indicates that if anyone's going to take a hit from Kinect's arrival before Christmas this year, it's going to be Nintendo.
While the Wii's motion control is engaging in a similar way, Kinect does the same without a controller, with a promise of dozens of compatible titles by mid-2011, and adds some solid features that will encourage non-gamers to get on the bandwagon.
Kinect Chat sees users able to video conference with others on Xbox Live or from Windows Live Messenger.
This is potentially a death knell for internet video chat application Skype, and bundles features like sharing content while chatting and the Kinect camera tracks you while you move around, if you're that way inclined.
Voice control abilities for Xbox come with the Kinect, and despite my sophisticated Kiwi accent, it had no problems recognising words and then launching applications, pausing movies and carrying out other basic interface commands.
This was a surprise to the audience - something that web rumourmongers had not picked up on.
Microsoft entertainment boss for Australasia David McLean was extremely enthusiastic about Kinect's future - and disputed its Wii-ness.
"Does it look Wii-like?" he asked, "Yes. But does it play like Wii? Not in the slightest.
"We've leapfrogged the competition," he said, "and taken away the one main restriction to people jumping in and just playing - the controller."
Move, PlayStation's latest shot at motion control saw some similar "friendly" games to Kinect, but added several offerings that are more likely to appeal to core game enthusiasts.
Move's tracking of the controllers proved extremely accurate - movements were followed one-to-one across all axes. This bodes well for some interesting future releases in the pure gamer arena.
Third-person shooter Socom 4 is a good example of ground that Kinect can't cover yet. It played fluidly, although after years attached to a Dual Shock controller it did require a radical change of approach. I played using Sony's small navigation controller - which can be substituted for a Dual Shock - and the Move, which initially felt weird and clumsy but became more familiar and usable as I got my head around it - and more enemies fell.
The Fight: Lights Out takes street fighting into the lounge, with a progressive career mode that trains players - while chomping calories - to fight in various styles, plus adds a gambling element where you can bet on yourself or other fighters playing online.
"The only thing missing is booze!" joked one of its developers.
With a Move controller in each hand, each swing of the fist (or "dirty move" like an elbow to the back of the head) landed where I'd put it. Nice, and not, all at once.
So who is going to win this war? You'd have to say that Microsoft and Sony are going to both take a big bite out of Nintendo's market - especially considering that the Wii is sorely lacking in graphics grunt, and incapable of the high-def imagery the other two can offer.
Current serious gamers, looking at launch titles for both, are more likely to side with PlayStation, although Xbox owners are going to be remiss to go past the new features that come with Kinect.
With game developers still very much in the learning stages with both systems, only time will tell where these technologies will go. Sony has picked up on existing controller-based motion play and made it much, much better. But Kinect is a whole new ball game - whether it will translate to shooters and more serious genres remains to be seen.