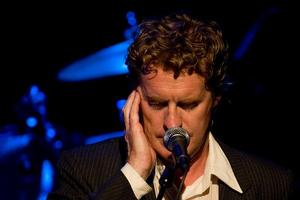 A couple of months ago, I saw the Toa Fraser film Dean Spanley. Fraser had previously written the play No. 2, then directed the resulting movie, set in Auckland. Toa Fraser is a New Zealand-Fijian; he directed Dean Spanley in Britain.

Dean Spanley (2008) is completely different - it's set in Edwardian England for a start. The story is, frankly, kooky. At the same time, it's beautifully mannered, well acted and nicely directed.
Part of the movie's considerably charm comes from the warm and engaging soundtrack by Auckland's Don McGlashan. I won't tell you any more about Dean Spanley, save to say it's a nice way to spend an evening if you don't feel like car chases and explosions, you're willing to immerse yourself in some fine British story telling and particularly if you appreciate fine wines and dogs. Say no more.
Intrigued, though, I quizzed Don McGlashan on his music, the Macs in his life, and how he used them to create the Dean Spanley soundtrack. It turned out to be a truly global undertaking.
Don has had a long and varied music career. He actually learned cello, piano, percussion and brass instruments from about age 7, playing euphonium and snare drum in a brass band when he was 11 or so.
He studied horn at Auckland University, eventually playing in the Auckland Symphonia (now the Auckland Philharmonia) for a few years. But he was also drumming in the post-punk band Blam Blam Blam, which had several top 20 singles. The album Luxury Length went to number four here.
After a year in New York as a drummer with avant-garde dance company Laura Dean Dancers and Musicians, he returned to New Zealand and started The Front Lawn with Harry Sinclair.
McGlashan wrote the score for Jane Campion's An Angel At My Table and was singer and main songwriter in The Mutton Birds (four NZ top-ten albums).
In 2006 McGlashan's score for Toa Fraser's No. 2 won Best Original Music in that year's NZ Film Awards, and his song Bathe In The River, sung by Holly Smith, won him a second Silver Scroll.
In 2008 McGlashan composed the music for both the Toa Fraser film Dean Spanley, plus Anthony McCarten's film Show Of Hands. And he toured the US and Europe with Crowded House.
In 2009 and this year he's been working on scores for Michael Bennett's feature film Matariki, and the upcoming TV drama This Is Not My Life. He has been touring solo, plus with his band The Seven Sisters, plus with the side project The Bell Birds. He has also released a second solo album: Marvellous Year.
"I started using a computer around the time of An Angel At My Table in 1990. I used a Mac 512k with Performer software on a floppy disk. A bit later I went up to a Mac Plus, then a Mac Classic. I've never used a PC. They creep me out.
"My friend Wayne Laird was starting to use a computer for music making, and I took over bits of his old gear as he upgraded. I remember the day he got an SE30 and I secretly thought 'he's gone too far - why would anyone ever need that much power?' "
Now he also uses his Macs for emails, internet, archives, photos and he's starting to use Skype when touring, for keeping in touch with family.
"I still generally start a song on paper - I keep a handwritten journal of bits and pieces of daily writing that becomes the compost out of which ideas grow.
"But I use my MacBook for working on songs once I've got them started - both lyrics (Microsoft Word) and music (Apple's Garageband, or DigiDesign's Protools - sometimes even Sibelius, although that really comes into its own for film and TV work)."
"I'd worked with director Toa Fraser on his film No. 2, and when he was hired to direct Dean Spanley he talked me up to the producers. It was quite a leap of faith for them, as I'd never done a fully orchestral film score at that time.
"I saw a rough cut of the film, then went away and wrote a bunch of themes inspired by what I'd seen. I've never done that before. Looming deadlines usually mean that you have to write everything 'to picture'. But in this case; they hadn't finished the film, and, as all the post production except for the music was happening in the UK, I had a month or so to think about it before I was allowed to see another screening.
"I approached the New Zealand Symphony Orchestra, who gave me a good deal, as they're keen to be involved in more film scores. We set the date for the orchestral recording, and I engaged a copyist (in Adelaide) and a conductor for the session, and an orchestration assistant. Around then I was asked to go on the road with Crowded House. I was worried that I might not be able to do both, but I figured I might as well be writing in dressing rooms and on buses as at home in my studio, so I took the plunge."
"Once I got something approaching the fine cut, I had a series of 'spotting sessions' with the director and editor. That's where you say: 'OK, I reckon music starts when he gets up out of the chair, and continues over the car shot, stopping as they enter the building - and it should be buoyant and rhythmic." And then someone else says: 'No, I think it should start earlier, and be reflective and peaceful' ... but eventually all of that stuff is negotiated. One of these early sessions was in London - the production flew me over for a few days, the week before the Crowded House tour started in the US.
"Once I was on the road in America with Crowded House, I wrote sketches on Sibelius - a scoring software that's essentially music manuscript on the Mac screen, with the added feature of being able to press 'go' and hear an approximation of what you've just written.
Sibelius is available for Mac and Windows
"I then attached stereo mixes of those sketches to lo-res QuickTime segments of the film, and uploaded them to an ftp site so that Toa, in London, could respond. Once Toa and I had agreed on the shape of each cue, I'd email the files to Gareth Farr, my orchestration assistant (who by this time was on his own tour - to Gallipoli, then New York). Gareth fleshed out the arrangements, and doubled parts so that nobody in the orchestra would feel left out!
"Once each cue was finalised, I'd email the file to my copyist in Adelaide, who'd format it so that it was easy to read, and the page turns were all in the right places. By the end of the month of touring and writing, the music files were ready to be emailed to the NZSO, who printed them out.
"Then we had two three-hour sessions in one day with the orchestra and conductor Marc Taddei, and another short session the following day with a smaller ensemble.
"That's the way it is with orchestral film scores - months of writing, then suddenly the recording happens, and it's all over! It was great to see and hear 80 superb musicians playing stuff I'd written on my MacBook on a tour bus on the New Jersey Turnpike, while the rest of the band were asleep in their bunks!"
"The way I work (and I believe this is pretty standard in the industry) is that the music's all written specifically in position in the film. In the actual final mix - when the dialogue, effects and music are all combined to make the film soundtrack - directors occasionally drop the odd music cue, or shift something around - but normally everything's been agreed upon by that stage, so the main issues are of relative loudness, rather than position."
I asked what he'd like his next Mac to be:
"Well, I really like my G5. I use two displays - a 17-inch and a 20-inch - so I can have the movie on one, and either Protools or Sibelius on the other, and I'm always swapping work back and forth between my MacBook and the G5. I'm relatively up to date with my software, so I guess the inevitable software upgrades will eventually necessitate hardware upgrades. But right now these two computers do everything I want them to do."
(So I'm guessing a multi-core Mac Pro tower to run the same two displays.)
"As much as I get a thrill out of all I can achieve with them, I still love those moments when I can turn them both off - and go and pick up my guitar, a pencil, and some paper."
There's more info about Don McGlashan here.
The full text of this interview is on mac-nz
- Mark Webster