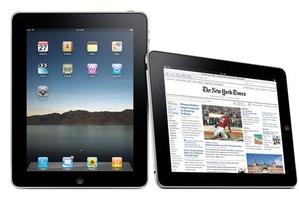 It's called the iPad. It looks like a large iPhone, with just a single button on the front. It has a 9.7in screen and weighs in at 1.5lb pounds. And it will cost you at least NZ$800 for the cheapest model.
Don't pretend you didn't want to know.
Apple, inventor of the Macintosh computer and the iPod, launched a new computer yesterday and the company's boss, Steve Jobs, claimed it will change the world. Many people agreed. Many more people acted like they agreed. Plenty hope he is right.
After months of hype and rumour-mongering that only seemed to get more intense the more tight-lipped Apple executives became, Jobs stepped on to a San Francisco stage yesterday to declare the opening of a whole new category of electronic device.
Halfway between a smartphone and a portable computer, the touchscreen-operated iPad will provide a whole new way to buy books and newspapers, play games, watch films and TV shows and surf the web, he said.
"We want to kick off 2010 by introducing a truly magical and revolutionary product," he said. "It's so much more intimate than a laptop and so much more capable than a smart phone."
Apple is confident the iPad will escape the fate of previous attempts at tablet computers - including the company's own Newton device, launched with a fanfare in 1993 - now that so many more applications are available to enrich the device.
Like the iPhone before it, the iPad will cause "another gold rush for app developers", Jobs predicted.
And he also yesterday launched the iBookstore, from where users can quickly and easily download electronic books to read on the device. Gallantly, Jobs said he was "standing on the shoulders" of Amazon, which has pioneered the e-reader with its Kindle device, but commentators are already predicting that limited-function e-readers face a dangerous new competitive threat from the iPad.
Unlike on the first generation of e-readers, the new device can feature colour photos and video, if authors wish.
Certainly publishers lined up to support the Apple debut. Simon & Schuster, Rupert Murdoch's Harper Collins, and Macmillan were among those immediately committing to sell books for the iPad.
The hopes of many media executives are pinned on the iPad, and other similar tablet devices promised by PC manufacturers this year, since they offer an opportunity to replace the declining readership of newspapers and magazines with new subscribers to bespoke applications for the devices, opening up a second chance to charge for digital content that is currently given away for free on websites.
The New York Times was among the companies called to the stage to promote a dedicated iPad app yesterday, saying it would offer a more newspaper-like experience than anything that has been created for a smartphone.
Versions of the new device have 16GB, 3GB and 64GB of memory, with or without 3G wireless service on top of the standard wi-fi internet connectivity. Prices will range from $499 to $829 in the US, and the first versions will go on sale in 60 days.
A number of questions were not immediately answered by Jobs' presentation, however, including how the device will connect to 3G wireless internet.
AT&T, which is Apple's exclusive network carrier for the iPhone in the US, said it would offer price plans for internet service. There was no immediate detail on arrangements elsewhere, or on local currency prices for the device outside the US.
And not every observer was drawn into the hype. "Basically all they've said is this is a really big iPod Touch," said James McQuivey of Forrester Research, a market research firm.
"It has a better screen and so you can design better apps for it, but Apple hasn't solved some of the media use problems that they're in a position to solve."
iPad facts
* Half an inch thick, it weighs 680grams with a 9.7in touchscreen display. It comes with between 16GB and 64GB flash storage and a 1Ghz chip with both Wi-Fi and 3G.
* All iPhone applications will run on the iPad. Apple claims the device will run for up to 10 hours on its battery. It will cost between $499 and $699 in America, but it is likely to cost more over here.