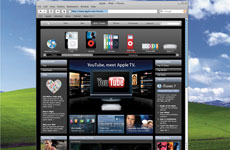 The most significant news out of Apple's Worldwide Developers Conference taking place in San Francisco isn't iPhone related.
It's the confirmation of rumours that Apple is releasing its Safari web browser for Windows XP and Vista PCs.
A public beta of Safari 3.0 for Windows is already available here.
It's a 28MB download. I've been playing around with Safari all morning after a smooth install on my XP machine.
Safari certainly takes longer than Firefox and IE to install because bundled into the download is the QuickTime media player, but progress screens keep you informed of what is happening during the install.
Unfortunately, my early user experience hasn't been good.Initial thoughts: it appears no faster than Firefox, in fact, Safari was pretty slow opening web pages.
It crashed several times in the first hour, kept shutting down when I tried to load Gmail and completely froze on CNN's website. Right now it's unresponsive as I type this into my Firefox browser, which I think I'll stick with.
So what does Steve Jobs think Safari can do for PC users that Internet Explorer, which has 78 per cent of the web browser market and Firefox (15%) can't? Well, he claims Safari (5% share) is faster to use than its rivals.
"Blazing performance" the Apple website promises is its number one advantage. If that's the case, some kinks need to be ironed out in the beta process. Mozilla, the makers of Firefox will no doubt be slightly nervous about Safari's debut on the PC, especially considering Apple has the potential to integrate services like the iTunes Music Store into its Safari browser for greater convenience.

But the highly anticipated Firefox 3 will likely keep the Firefox browser at the front of the ever-growing pack of browser makers in terms of innovation.
Still, in the same way Apple has snuggled up to PC owners with the iPod and iTunes, giving them access to Safari as well will only do good things for Apple, especially as it forges more content deals in Hollywood. More choice for PC users is good.
Safari is obviously the browser that will be central to the upcoming iPhone.
Apple said at WWDC it will allow small applications to be written for the iPhone by third party developers. These applications will run in Safari.
How has your experience of Safari on the PC been? How do you rate it compared to the latest versiona of Internet Explorer, Firefox and Opera?

By Peter Griffin

Email

Peter