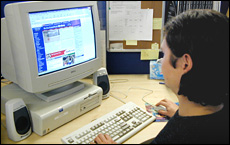 Teenagers' love of social networking websites, blogging and use of media channels is growing, but so is their false sense of control over the technology.
Marketers are feverish with excitement over defining the new generation of post-modern youth - what they like to call Generation C - who are driving change in the marketing industry through their use of technology.
Entrepreneur Jack Pearce says companies such as Sony, L'Oreal and Toyota are pushing hard to tap into the new generation by running campaigns asking them to contribute their marketing ideas - a Sony advertisement last year was produced by an 18-year-old.
In New Zealand, we have seen companies capture Generation C to some extent through initiatives such as Telecom's Rubbish Film Festival, which received 1000 entries from consumers who created films, but marketers are still slow to catch on in New Zealand, says Pearce.
Pearce, who is working with companies around the world, tapping into this new generation, is confident he has a sense of what they are all about - control, creativity, community and customisation.
A large chunk of this new generation's attention is focused on MySpace - the largest social networking site in the world with 88 million users, says Pearce.
MySpace includes millions of pages of autobiographical data, blogs, homemade movies, pictures and lists - and is described on its website as an online community that lets you meet your friends' friends.
"The key difference with this generation compared to previous ones is they believe they have something meaningful to say to a mass audience, unlike previous generations, who did not have the same kind of confidence using technology to express their ideas," says Pearce.
"Blogging is about participation on my terms, it's very 'me' driven. So 88 million people on MySpace believe that their content is competitive, meaningful, and they can create their own destiny through it."
There are 50,000 new blogs an hour, and third of those who start will continue to blog.
Another interesting development is YouTube - a web place for people to engage in new ways with video by sharing, commenting on and viewing videos - which is growing faster than MySpace, says Pearce.
YouTube originally started as a personal video sharing service, and has grown into an entertainment destination with people watching more than 70 million videos on the site daily.
University of Auckland business school senior lecturer Robert Davis says the reasons for Generation C behaving in this way need to be looked at in more depth.
Teenagers do have a false sense of security on these sites and are putting a high level of information on the social sites, including their phone numbers and full names.
MySpace has been the subject of a number of lawsuits in the US because it is attracting paedophiles masked as teenagers, and the White House is starting to put through legislation specifically targeting this problem.
"It's not until something goes wrong that people realise what they are exposed to. Dangerous offenders can easily act like a 13-year-old and that is what they do," says Davis.
But while paedophiles are a concern, it is also marketers' misrepresentation of information and whether what is being said is true that needs to be looked at further.
Davis says another element of Generation C is their need to be a celebrity, seen on technology such as Songstar, where you can record your own songs.
"I think this is a function of them being told they can be anything and everything, that is, be the star. We may have a very insecure group of consumers here. They want to be totally in control and the celebrity, but in reality it is not possible."
Netsafe New Zealand spokesman Martin Crockett says while the technology is exciting, the level of detail teenagers are supplying to social networking sites is still a concern.
"It is part of the effect of the internet that people sit at the computer and leave their inhibitions behind. They feel safe and the risks are quite extreme.
"Internet lowers the barriers required to develop a relationship. Young people call people their friends much quicker online than offline."
In the US, due to the MySpace problems, they are developing rules so that younger users' profile information is not immediately available.
But Crockett says rules only go so far in an environment where you have no control over how people behave or communicate.
Netsafe works with schools through presentations to staff and school communities, basically telling parents what a social networking site is, and teaching students to look critically at the information on the web and not fall for the spin.
Says Crockett: "It is best to empower people to make the right decision through education in an environment that you can't control."
By Jenny Keown

Email

Jenny