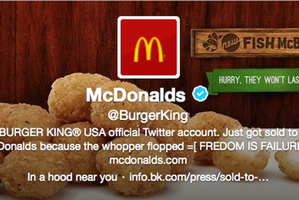 Burger King USA's official Twitter account has been hacked this morning.
The Burger King logo has been changed to a McDonald's one and changed the account name to "McDonald's".
"We just got sold to McDonalds! Look for McDonalds in a hood near you," the hackers wrote to announce the prank about 6am NZ time.
In the past hour, some posts from the account have contained racial epithets, references to drug use and obscenities. The account has also tweeted: "if I catch you at a wendys, we're fightin!"
The account was later shut down.
The Burger King USA account has more than 89,400 followers.
Anonymous have claimed responsibility for the hack.
The group have hacked corporate and government agency websites, including New Zealand sites in response to the "Skynet" copyright law.
McDonald's tweeted this morning they were not involved in the prank.
"We empathize with our @BurgerKing counterparts. Rest assured, we had nothing to do with the hacking," they wrote.

Burger King Worldwide Inc, which is based in Miami, did not immediately respond to a message seeking comment.
- Herald Online, AP