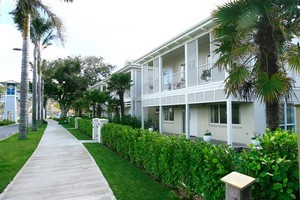 "Staggering" is how a High Court judge described the behaviour of a pair of property developers and their indebtedness.
Associate Judge Hannah Sargisson was left aghast at Cameron Marsh and Mark Perriam, who owed more than $146 million after the failure of their North Shore Perron Group.
So she didn't hold back in saying what she thought when she refused their scheme for creditors.
"The insolvents have displayed, throughout, a lack of candour which belies their claims of integrity in commercial dealing. It is evident in their inability to explain the staggering losses they incurred and why despite 15 years of, on their account, successful property development, their assets were so woefully small and insufficient in even beginning to meet the liabilities arising under their personal guarantees."
Worse, she said the pair posed a hazard and she had no qualms about turning down their scheme, also opposed by Commonwealth Bank of Australia, which had lent them $40 million.
Marsh and Perriam were later bankrupted, their last project a scheme to develop 57-77A Hurstmere Rd at Takapuna.
They are part of an ever-widening group of developers suffering for incurring such heavy debts, leaving financiers much the poorer in an effect that trickles down.
Developers and their funders are partly responsible for costing savers, many elderly, an estimated $8 billion in the finance firm collapses since 2008.
Most of that money was unprotected by the Government guarantee so the savers have got nothing back, representing the country's worst wealth destruction in years.
Christmas cheer rings hollow in the households of the retirees forced back to work and who tell of resorting to $2 stores for grandchildren's gifts.
Financial failures on this scale have marked the virtual disappearance of private developers, a point which concerns some in the business community who wonder how the next breed of developer will rise, given credit constraints, and how new building stock will be created.
Auckland City officials say a robust property development community is crucial to civic health, allowing the creation of new apartments, housing and workplaces, employing thousands and using locally made goods such as wallboard, insulation, steel and cement.
Building data out this week from Statistics NZ showed how the sector was shrinking: consents were issued for buildings worth $9.8 billion in the October year, down from last year's $9.9 billion and 2008's $11.6 billion.
John Dakin, chief executive of NZX-listed Goodman Property Trust with its $1 billion real estate portfolio, criticised the private development community for taking extreme risks and distanced Goodman from them.
"A lot of developers have hit difficulty through this cycle but they have tended to operate at the higher-risk end of the market. We are low risk in our development business. It only forms 10 per cent of our assets and all developments we have done in the past 4 years have been 100 per cent preleased before we commenced."
The string of bankruptcies is more indicative of the state of financial markets and Dakin believes better-quality buildings will arise as a result.
"The issue is twofold in that capital has become scarce for property development and that demand for the end product has weakened significantly. However, my view is that good-quality projects will still attract capital. The primary difference is that more equity will be required by the funders. The developers that have the capability to put together high-quality projects and attract sufficient equity capital will benefit as market demand returns," Dakin says.
Auckland businessman Ben Cook, who invests in property, sees some developers getting off too easily.
"I thought few developers were going bankrupt. The majority seem to get these incredible creditor compromises," Cook said.
Last month, Patrick Fontein's $120 million debt burden saw him bankrupted, although he went down fighting hard, hiring top barrister David Connor to mount a strong defence against the BNZ which Connor accused of sabotaging Fontein's efforts to repay some creditors, getting too personal, tightening loan conditions at an Orewa housing estate and going too far.
Fontein was still smarting this week, reluctant to specify how bankruptcy would hurt him, having presented evidence in his affidavit that he would suffer and his work as a consultant earning $600,000 in the past 18 months could be damaged.
Fontein's affidavit said Auckland City had appointed him to two key positions: deputy chairman of the new Urban Design Panel and a role giving feedback on the council's regional growth strategy and spatial plan. "Bankruptcy would almost certainly have a detrimental effect on my ability to continue with these appointments," he said.
In declaring Fontein bankrupt, Associate Judge John Faire acknowledged the effects of the move.
"Mr Fontein and his family have had to move into rented accommodation. I have already referred to the sale of the major family asset. The children's schooling has been supported by Mr and Mrs Fontein's parents. I have no doubt, as Mr Fontein has said in affidavit, that the family have undergone a massive lifestyle transformation as a result of the financial difficulties he now faces."
This week, Fontein complained of his children being harassed at school and of the real story never emerging, that of the BNZ's persecution: "I just don't need all this any more."
This week, Dave Henderson of Christchurch was judged bankrupt, after a torturous series of adjournments over many months. Associate Judge Rob Osborne refused to give him more time to put an 11th-hour proposal to creditors, repaying 1.5c-2c in the dollar.
Christchurch City Council temporarily bailed him out in 2008, buying $17 million worth of properties in a controversial move which drew ratepayer criticism, but Hendo's biggest fall was at Five Mile, the Queenstown project funded by Hanover, later Allied Farmers.
Andrew Krukziener's bankruptcy, brought by Inland Revenue, is yet to get a hearing but that is scheduled this month. Like Fontein, he hatched a repayment plan. About 70 per cent of Krukziener's creditors agreed to a proposal to get just $320,000 from a $47 million debt.
Krukziener and fellow developer Jamie Peters, bankrupted for $120 million, have said they play a vital role in society and their financial ruin is our loss.
Peters, who outlined a career in which he had "bought and sold something in the order of $1 billion of real estate", said he was a proud man and had not run away from his debts.
Bruce Stewart, QC, said Krukziener had made a significant contribution to the Auckland community and had generated hundreds of millions of dollars in economic activity for the region through his property development empire.
Connal Townsend, the Property Council chief executive, has mourned the lack of cash for investors and turns his attention more to banks rather than developers.
Fletcher Construction has been trying to bankrupt Nigel McKenna for months and the matter goes to the High Court on Thursday.
Graeme Christie, a Simpson Grierson partner in the commercial litigation group, specialises in property and construction law and is acting for Fletcher. He is frustrated about the length of time the McKenna case has taken, after his target left New Zealand for some weeks so it was not possible to serve documents to fulfil statutory timeframes.
Christie wonders if bankruptcy is still so frowned upon in New Zealand and whether we still regard it as the worst sin committed with money.
"The stigma doesn't seem to mean as much for some people in the context of future business and continuing to be involved in the business world. Bankruptcy only lasts for three years. I would like to see people have the stigma and their past failures known," Christie says.
"Many bankrupts will rekindle their business careers. But what bankruptcy does achieve is give confidence you have squeezed the lemon dry. If you don't get the Official Assignee in, how can you be sure there's no money?"
Developer dissolution
Bankrupt
Cameron Marsh, Mark Perriam
* Perron Group, Auckland
* Bankrupted in June over debts of $146m+
* Proposed to pay creditors about 0.08c for every $1
* Applicant: Commonwealth Bank of Australia
Dave Henderson
* Property Ventures, Christchurch
* Bankrupted on Monday
* Main creditors: Allied Farmers and FM Custodians
* Debts around $142m
Patrick Fontein
* Kensington Properties, Auckland
* Bankrupted last month
* Applicant: BNZ
* Debts of $120 m+
Jamie Peters
* Starline Group, Auckland
* Bankrupted earlier this year, debts of $120m
* Applicant: Marac Finance
Facing bankruptcy applications
Andrew Krukziener
* Krukziener Properties, Auckland
* Not declared bankrupt, application pending
* Applicant: Inland Revenue, $6.2m
* Hearing due this month
* Debts around $47m
Nigel McKenna
* Melview Property Developments, Auckland
* Application to bankrupt made in October
* Hearing on Thursday
* Applicant: The Fletcher Construction Co.
* Debt: shortfall on Wellington's Holiday Inn
Bankruptcy bans
* Being a company director
* Withholding information or misleading
* Incurring credit of $1000 or more without disclosing you are bankrupt
* Concealing assets
* Stopping, attempting to stop or hampering the Official Assignee dealing with any property or assets
* Leaving New Zealand without permission
* Entering into, carrying on or taking part in the management or control of any business without permission
* Being employed by a relative or entity owned, managed, or controlled by a relative without permission
* Penalties: fines, prison or both
Source: Ministry of Economic Development's Insolvency & Trustee Service