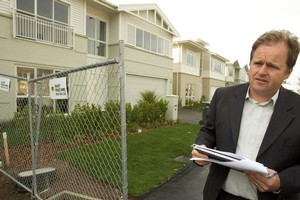 Former multi-millionaire property developer Patrick Fontein has been bankrupted owing creditors $94 million, a court judgment revealed.
BNZ's application against Fontein successfully bankrupted him after he failed to comply with a notice issued last November that awarded the bank $27 million.
That debt increased to $28 million because of interest, costs and disbursements.
BNZ chief general counsel Chris Reid said the bank's decision to bankrupt Fontein was "just" and the right course of action given the amount of money involved and the number of people it had impacted.
"The decision was in the public interest and the interests of commercial morality," Reid said.
Auckland-based Fontein, 45, personally guaranteed $15 million worth of loans for his Kensington group of companies.
He borrowed $13 million against Kensington Properties, $1.6 million against Kensington Park Properties, in receivership, and $914,000 against Kensington Construction, in receivership and liquidation.
In addition to being the sole director of the Kensington group of companies, Fontein is also the sole director of Huka Falls Resort, in receivership and liquidation.
Just under $79 million is owed to various financiers and funders, including the BNZ debt.
Fontein's creditors which claim funds include Allied Workforce; $112,050, Carters; $281,526, Fidelity; $20 million, Fleet Partners; $58,300, Orix New Zealand; $50,414 and Southern Cross Building Society; $4.4 million.
The judgment of $27 million against Fontein was the shortfall BNZ was owed once Kensington Park Properties was put into receivership.
Before the sale of Kensington Park Properties' assets, Fontein's liabilities under the personal guarantees he granted was more than $120 million.
According to the judgment, since March 2009 Fontein has been working for Windsor Consulting as a property consultant. During his first 12 months of trading he made $300,000.
The judgment states Fontein carried out "considerable research" on international best practice in the property industry. Fontein has an engineering degree from Auckland University and a MBA from London University.
He was a fellow of the New Zealand Property Institute until 2009.