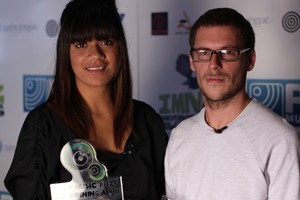 Hip-hop soul diva Ladi6 beat out some noisy punks, a chart-topping electro pop band and a record made up of bird songs to win the second Taite Music Prize for best album.
Released in November The Liberation of ... is the singer's second album following her 2008 debut, Time Is Not Much.
The prize, in memory of music journalist Dylan Taite, is awarded by a panel of industry judges and the Taite family to the best local album based on artistic merit.
"The Taite award is such an honour [because] it's judged on true creativity and innovation," said Ladi6.
"We want to make music listeners in New Zealand proud of us, and always hope to stand a little left of centre, the way Dylan Taite himself would have liked."
Recorded while she and her music and life partner Brent Park (aka Parks) were travelling around Europe, the album is more lively and experimental than her reflective and sometimes sad debut.
"A lot of it was done in hotel rooms, on the road, and it's a reflection of everything that was going on around us - the chaos, I guess - and a lot of it was spontaneous," said Parks in an interview with TimeOut last year.
Ladi6, real name Karoline Tamati, who was previously in all-girl hip-hop-soul crew Sheelahroc and the band Verse 2, had some fierce competition for the $10,000 prize with the Naked and Famous (Passive Me, Aggressive You), folky popsters the Phoenix Foundation (Buffalo), and bratty upstarts Street Chant (Means) also up for the award.
Also nominated were Auckland-based trio Die!Die!Die for their excellent third album Form, singer-songwriter Julia Deans for her debut solo LP Modern Fables, indie oddball Connan Mockasin for Please Turn Me Into the Snat, and Auckland-based songwriter and composer Dudley Benson's bird songs album Forest: Songs By Hirini Melbourne.
Taite's son John said the finalists raised the bar second time round and "delivered some cracking creative sounds".
"The secret herbs and spices required to win the prize are equal parts innovation, interesting and genre-busting ... not to mention worthy of a Dylan [Taite] piece if he was still kicking around," he said.
-TimeOut