17 Aug, 2017 2:08pm
7 minutes to read
Douglas Roake jailed 13 years for armed holdups of Canterbury pubs and shooting two women.
17 Aug, 2017 11:56am
3 minutes to read
A rebuild worker reveals how he broke into a blazing house in an attempt to save a man.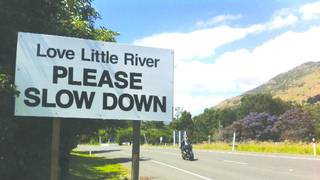 17 Aug, 2017 8:30am
2 minutes to read
Community group paid for the sign to make the township's main road safer.
17 Aug, 2017 8:26am
Quick Read
Four people taken to hospital after three cars crash in Dunedin.